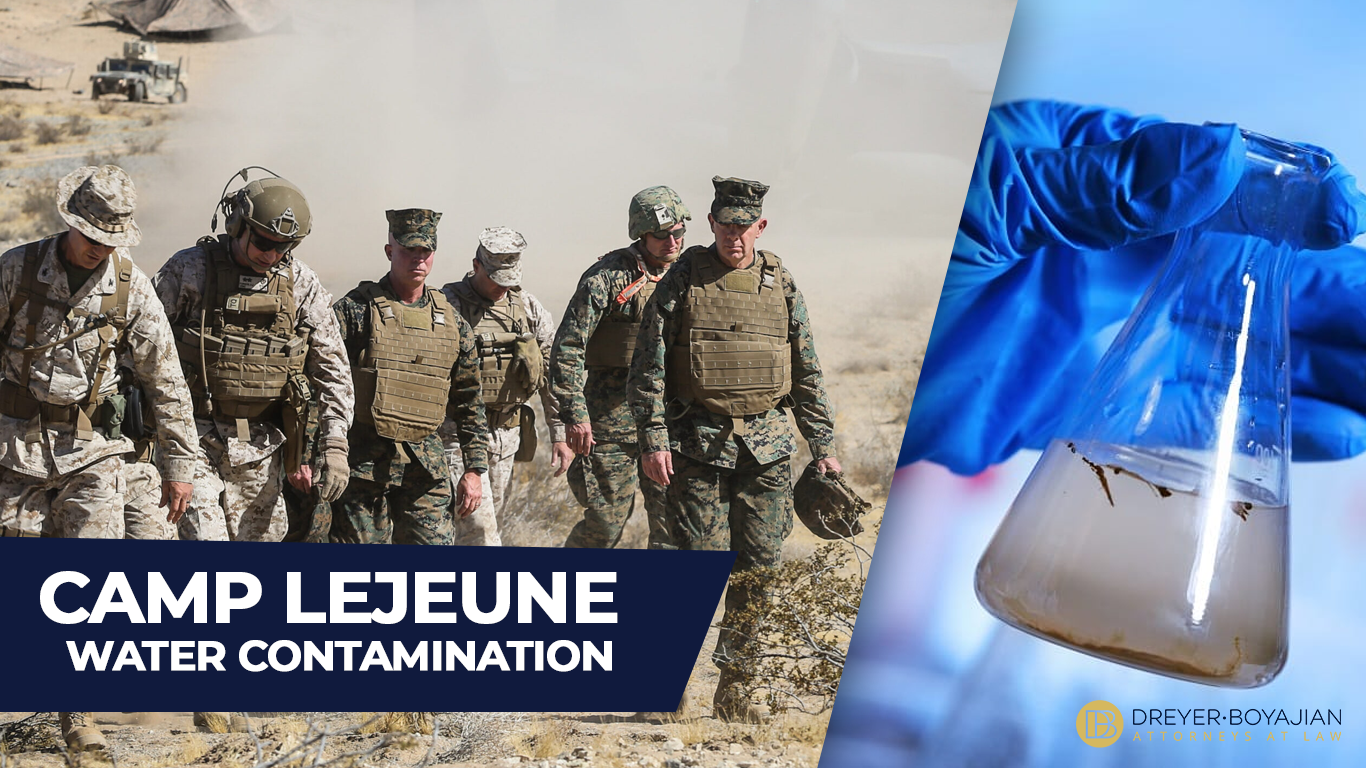 Honoring Our PACT Act signed into Law: Camp Lejeune Water Contamination Lawsuits Moving Forward.
On August 10, 2022, as a culmination of a 25-year fight for justice, President Biden signed into law the Honoring our PACT Act, which includes the Camp Lejeune Justice Act. In addition to helping all veterans who were exposed to toxic chemicals during military service, the new law marks a breakthrough in achieving justice for veterans, families, non-military staff, and others who were exposed to contaminated drinking water at Marine Corps Base Camp Lejeune, North Carolina between 1953 and 1987, and who can now file a legal tort claim against the United States Government.
How will Veterans will benefit from the Honoring Our PACT Act?
In multiple military operations and various military bases across the world, service members have been exposed to toxic chemicals in burn pits, drinking water, airborne gasses, and by other hazardous means. In June 2021, Representative Mark Takano (D-CA) introduced the Honoring Our PACT Act, guided by input from toxic-exposed veterans, lawmakers on both sides, and the Department of Veterans Affairs.
The passage of the Honoring Our PACT Act (H.R. 3967) will now provide medical care, mental health services, and counseling to veterans who:
Participated in an exposure tracking record activity involving toxic exposure risk (qualifying activity).
Served at specified locations on specified dates
Specifically deployed for a contingency operation.
The Act represents an acknowledgment and massive improvement in government action to benefit veterans who were exposed to toxic chemicals during their service.
The Honoring Our PACT Act will finally afford veterans the help they need and deserve.
What is the Camp Lejeune Justice Act?
Included within the Honoring Our PACT Act is the Camp Lejeune Justice Act.
This bill allows anyone who used or was exposed (including in utero exposure) to contaminated water at the North Carolina Marine Corps Base to file a lawsuit to recover damages for actual harm or the increased risk of harm caused by, associated with, or linked to the water exposure.
The bill provides that people who were at Camp Lejeune for 30 days or more between August 1, 1953, and December 31, 1987, are eligible to file a claim for money damages. Veterans, family members, non-military workers (civilian contractors), and others who were exposed between these dates may qualify to file a claim.
Side Effects of Camp Lejeune Contaminated Water Exposure
Evidence suggests a causal link between extended exposure to PCE or TCE from well water at Camp Lejenue and certain serious and often fatal diseases, including:
Liver cancer
Kidney cancer
Breast cancer
Bladder cancer
Ovarian cancer
Prostate cancer
Cervical cancer
Lung cancer
Leukemia
Non-Hodgkin's lymphoma
Liver disease
Miscarriages
Birth defects
Who Qualifies to File a Camp Lejeune Water Contamination Lawsuit?
Anyone who lived or worked at Camp Lejeune for at least 30 cumulative days between August 1953 and December 1987, and who developed one of the illnesses listed above may qualify to file a lawsuit.
This includes veterans, reservists, guardsmen, civilian workers and family members. People who were in utero during the time period may also qualify. If you developed any other serious illness not listed above, you can still contact our attorneys to see if you qualify.
If you or a loved one were exposed to contaminated water at Camp Lejeune between 1953 to 1987, don't delay. Time will run out to join the Camp Lejeune lawsuit!
The attorneys at Dreyer Boyajian LLP are experienced in handling toxic tort and water contamination cases:
Village of Stillwater et al v. General Electric Company, N.D.N.Y., 09-cv-228. Successfully prosecuted and settled a lawsuit on behalf of several Hudson River communities against General Electric Company for the PCB contamination of their public water supplies.
George, et al. v. General Motors Corporation and Alcoa, Inc., N.D.N.Y., 05-CV-1482. Prosecuted and settled a mass toxic tort action against General Motors and Alcoa on behalf of hundreds of individuals claiming personal injuries caused by exposure to PCBs from contamination of the St. Lawrence River.
Arroyo et al. v. State, Ct. NYS Court of Claims, No.111361. Successfully certified and settled a class action in the New York State Court of Claims against the State of New York on behalf of thousands of persons injured by the 2005 Seneca Lake Spraypark Cryptosporidium outbreak. Dreyer Boyajian was appointed Co-Class Counsel in the case, which was the largest reported outbreak of cryptosporidium in New York State and second largest reported outbreak in U.S. recreational water history.
Dunn et al. v. Washington County Fair, Inc., et al, NYS Sup. Ct. Saratoga County, 99-3235. Appointed Lead Class Counsel in the successful settlement of a class action involving the E. coli O157:H7 outbreak at the New York State Washington County Fair in August 2000, which at the time was considered to be the largest waterborne E. coli outbreak in the nation's history.
Baker et al v. SF HWP Management LLC et al, NYS Sup. Ct. Washington County, No. 50564. Successfully certified and settled a class action involving a norovirus outbreak at the Six Flags Great Escape Indoor Lodge and Waterpark, Lake George, New York, in March 2008. Dreyer Boyajian LLP was appointed Co-Class Counsel in the case, which was one of the largest norovirus outbreaks in New York State history.