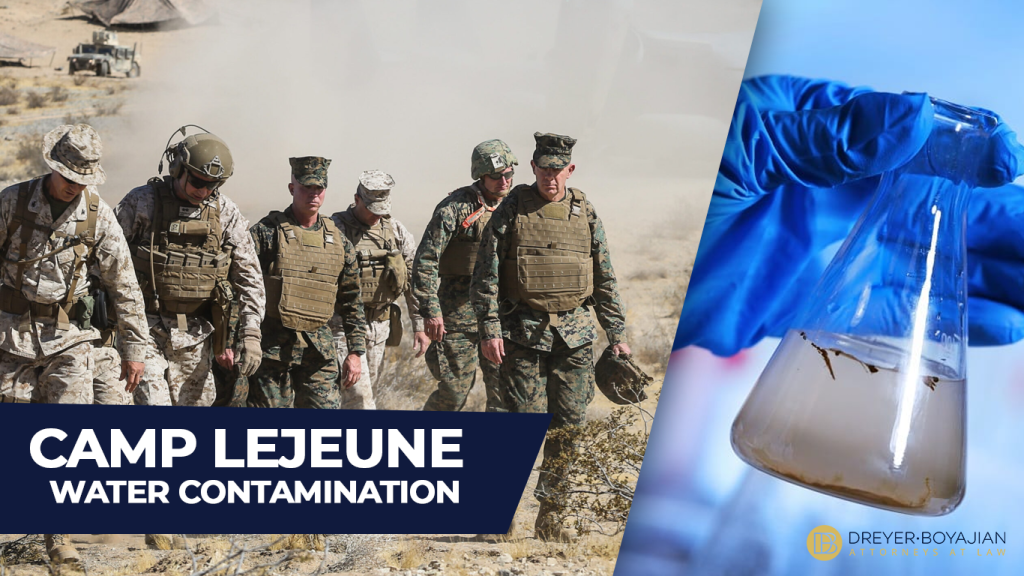 Camp Lejeune Lawsuits Are Being Filed Now. Don't Wait!
Over one million people, who were present at Camp Lejeune (North Carolina) between 1953 and 1987, may have been exposed to toxic substances in the water.
People who may have been exposed to water contamination at Camp Lejeune include:
Veterans
Family members
Workers
And others
Two of eight water treatment facilities supplying water to the Camp Lejeune Marine Corps Base in North Carolina were contaminated with volatile organic compounds from 1957 through 1987. Those potentially at-risk for developing or illness as a result of the contamination include Marines, Sailors, their families and civilian employees who were on base anytime between 1957 and 1985.
If you or someone you has been affected by the Camp Lejeune water contamination issue, you may be entitled to compensation for past, current and future medical bills, lost wages, loss of quality of life, and much more.
Side Effects of Contaminated Water Exposure
There has been suggestive evidence of a link between extended exposure to PCE or TCE and serious and often fatal diseases, including:
Liver cancer
Kidney cancer
Breast cancer
Bladder cancer
Ovarian cancer
Prostate cancer
Cervical cancer
Lung cancer
Leukemia
Non-Hodgkin's lymphoma
Liver disease
Miscarriages
Birth defects
Who Qualifies to File a Camp Lejeune Water Contamination Lawsuit?
Anyone who lived or worked at Camp Lejeune for at least 30 cumulative days between August 1953 and December 1987 who developed one of the illnesses listed above may qualify to file a lawsuit.
This includes veterans, reservists, guardsmen, civilian workers and family members. People who were in utero during the time period may also qualify. If you developed any other serious illness not listed above, you can still contact our attorneys to see if you qualify.
If you or a loved one were exposed to contaminated water at Camp Lejeune between 1953 to 1987, don't delay. Time will run out to join the Camp Lejeune lawsuit!
The attorneys at Dreyer Boyajian LLP have experience handling toxic tort and water contamination cases:
Village of Stillwater et al v. General Electric Company, N.D.N.Y., 09-cv-228. Successfully prosecuted and settled a lawsuit on behalf of several Hudson River communities against General Electric Company for the PCB contamination of their public water supplies.
George, et al. v. General Motors Corporation and Alcoa, Inc., N.D.N.Y., 05-CV-1482. Prosecuted and settled a mass toxic tort action against General Motors and Alcoa on behalf of hundreds of individuals claiming personal injuries caused by exposure to PCBs from contamination of the St. Lawrence River.
Arroyo et al. v. State, Ct. NYS Court of Claims, No.111361. Successfully certified and settled a class action in the New York State Court of Claims against the State of New York on behalf of thousands of persons injured by the 2005 Seneca Lake Spraypark Cryptosporidium outbreak. Dreyer Boyajian was appointed Co-Class Counsel in the case, which was the largest reported outbreak of cryptosporidium in New York State and second largest reported outbreak in U.S. recreational water history.
Dunn et al. v. Washington County Fair, Inc., et al, NYS Sup. Ct. Saratoga County, 99-3235. Appointed Lead Class Counsel in the successful settlement of a class action involving the E. coli O157:H7 outbreak at the New York State Washington County Fair in August 2000, which at the time was considered to be the largest waterborne E. coli outbreak in the nation's history.
Baker et al v. SF HWP Management LLC et al, NYS Sup. Ct. Washington County, No. 50564. Successfully certified and settled a class action involving a norovirus outbreak at the Six Flags Great Escape Indoor Lodge and Waterpark, Lake George, New York, in March 2008. Dreyer Boyajian LLP was appointed Co-Class Counsel in the case, which was one of the largest norovirus outbreaks in New York State history.