Wrongful Death Lawyer
Serving Albany, NY & All of New York State
Losing a loved one is devastating. Whether the death was caused by the negligence of a drunk driver on the road, a negligent doctor, a defective product, or a careless property owner, fighting to get the financial compensation your family needs shouldn't have to feel like going up against a brick wall.
For over 35 years, Dreyer Boyajian LLP has been pursuing justice on behalf of families who lost loved ones due to the negligence or wrongdoing of others. Our team of personal injury lawyers have recovered millions of dollars for our clients in wrongful death claims.
For a free case evaluation, please call Dreyer Boyajian LLP at (518) 463-7784 today. Our wrongful death attorneys are proud to serve clients in Albany, Troy, Schenectady, Saratoga Springs, NY, and all of New York State.
What Is a Wrongful Death Claim?
Wrongful death is part of personal injury law. Instead of filing a claim for the injuries caused by someone's negligence, you are pursuing a claim for damages stemming from the loss of a family member due to someone's negligence.
What Are the Common Causes of Wrongful Death?
Wrongful death may arise from a variety of different circumstances. Virtually any situation that can result in serious injury can also cause fatality.
Dreyer Boyajian LLP has experience handling wrongful death claims involving:
It is important to understand that you have legal rights if your loved one died as a result of another party's negligence. An experienced wrongful death lawyer can identify the party or parties responsible and pursue compensation for your losses.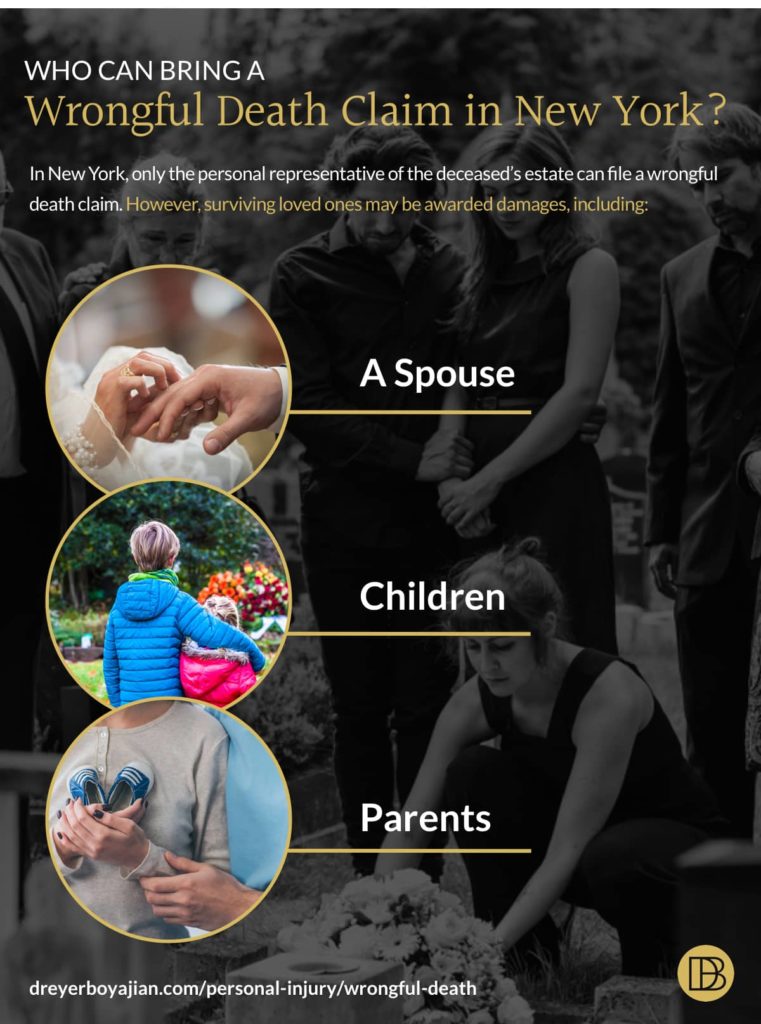 How Long Do I Have to File a Wrongful Death Claim?
In New York, wrongful death claims are subject to a time limit known as the statute of limitations. You must file a claim for wrongful death no more than two years after the date of your loved one's death.
As you can see, you have a limited amount of time to take action if you suspect the death of your loved one occurred due to negligence. Filing a legal claim is probably the last thing on your mind after the traumatic experience of losing a family member.
Therefore, it is in your best interest to contact a wrongful death lawyer as soon as possible to discuss your legal options and begin building your case. Your lawyer can handle the investigation and filing of your claim while you and your family focus on healing and rebuilding your lives.
Who Can File a Wrongful Death Claim in New York?
According to New York law, only the personal representative of a deceased individual's (the decedent's) estate can file a wrongful death claim. Family members are not permitted to bring a claim, unless the decedent's will names a relative as the personal representative of the estate.
Though only the personal representative (also known as the executor or administrator of the estate) can initiate legal proceedings, surviving loved ones of the decedent may be awarded damages in a wrongful death claim.
What Compensation Can I Recover in a Wrongful Death Claim?
The damages you may be able to recover in your wrongful death claim will depend on the losses you and your loved ones have suffered due to your relative's untimely death. These losses can be divided into three categories:
Economic Damages
Non-Economic Damages
Punitive Damages
1. Economic Damages
As the name suggests, economic damages refer to all of the monetary costs you incur due to the negligence that led to your loved one's wrongful death. Economic damages that may be available in a wrongful death claim include:
Loss of anticipated income
Loss of benefits connected to your loved one's job, such as health insurance and retirement and pension plans
Loss of inheritance
Costs associated with a funeral and burial or cremation
Loss of household services
Medical expenses connected to your loved one's passing may be recouped through a claim known as a survival action. Unlike a wrongful death claim, which pursues compensation due to surviving family members, a survival action pursues compensation that the decedent would have been due had they survived their injuries.
2. Non-Economic Damages
Non-economic damages refer to losses that do not have a definitive monetary value. In a wrongful death claim, these damages may include:
Loss of consortium – the loss of intimacy and affection between spouses
Loss of parental guidance and nurturing
Loss of society and companionship
Compensation for the decedent's pain and suffering prior to death may be recovered as part of a survival action. New York law does not allow surviving relatives to pursue damages for their own emotional anguish stemming from the loss of a loved one.
3. Punitive Damages
Though seldom awarded in New York, punitive damages may also be available if the defendant was extremely reckless or malicious in harming your loved one. Punitive damages are designed to punish the party responsible for the death and to deter similar actions in the future.
Contact Dreyer Boyajian LLP
Get your free and confidential consultation with one of our wrongful death lawyers.
How Do You Prove Fault in a Wrongful Death Case?
As in a personal injury claim, the ability to recover compensation for the wrongful death of a loved one is dependent on your ability to prove that one or more parties were liable. Generally, you will be seeking to establish the negligence of the at-fault party.
Legally, negligence is the failure to take reasonable precautions in a given situation. You must prove that this negligence violated the duty of care that the party owed to your loved one.
One example of a duty of care is the responsibility of a driver to obey the rules of the road. If the driver is reckless and causes an accident, the driver breaches the duty of care to the other motorist.
Your claim must prove that your loved one's death was a result of negligence, as well as the damages you and your loved ones have suffered.
The act that resulted in your loved one's death does not have to be intentional for your wrongful death claim to be valid; many of these cases arise due to the defendant's carelessness. However, you can also recover damages for wrongful death if you can prove that the defendant was acting intentionally or with malice.
Example: Your loved one was killed in a violent crime.
In some cases, the deceased may have been partially responsible for his or her own injuries or death. If this is the case, you and your loved ones may be entitled to less in damages. However, under the comparative negligence law in New York, you and your family will not be barred from recovery unless your loved one was 100% at fault for the accident.
---
"When I met Don and I actually sat down and talked with him face-to-face, I could feel his compassion for my story. I knew that he was going to be the right fit."

– Client of Dreyer Boyajian LLP in Wrongful Death Claim
How Can a Wrongful Death Lawyer Help Me?
Proving negligence or misconduct is often challenging. This, combined with the emotional toll of losing a loved one, makes it beneficial to contact a wrongful death lawyer in Albany as soon as possible to discuss your family's legal options.
An experienced attorney can do the following to help you with your wrongful death claim:
Investigate the circumstances of your loved one's death
Identify the party or parties that are at fault, such as a driver, a business, a medical provider, the owner of a property, etc.
Determine what caused your loved one's death; this is especially important if your relative suffered injuries but did not immediately pass away
Gather physical evidence and collect witness statements in support of your case
Hire relevant experts to review the evidence and provide expert testimony
Calculate the damages to which you are entitled
Negotiate with insurance companies on your behalf
Prepare your case for trial (if necessary)
In addition to handling the legal aspects of your claim, a wrongful death lawyer can provide valuable emotional support when your family needs it most. We understand that your loved one is not a legal file number, but a part of your family. We handle your case with compassion and will be responsive to your calls, emails, and concerns through everything.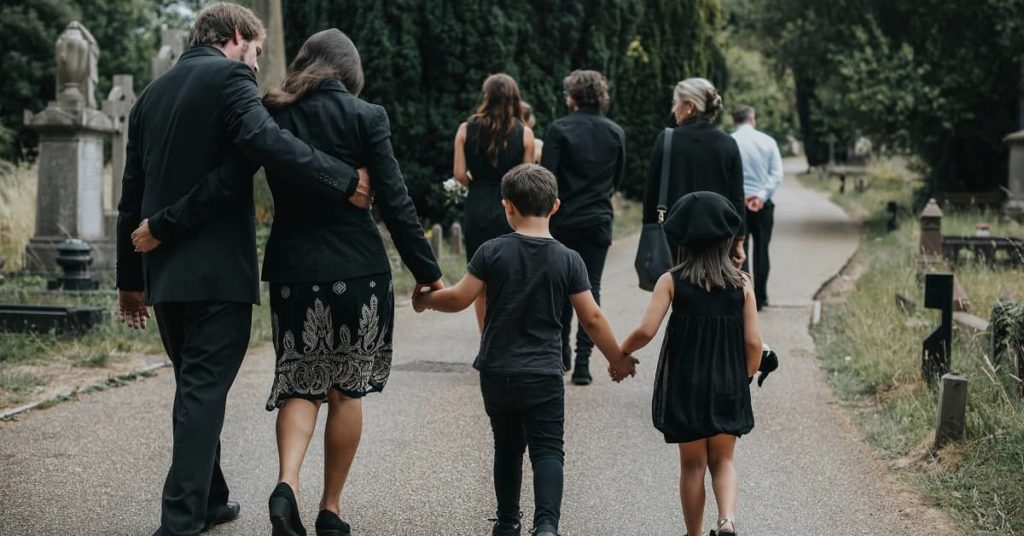 If you have lost a loved one due to the negligence of someone else, you deserve justice. At Dreyer Boyajian LLP, our Albany wrongful death attorneys have earned a reputation for aggressive representation of surviving family members after the tragic death of a loved one.
Every wrongful death case is as different as the family that is affected by it. Start by getting your questions answered in a free case evaluation by calling (518) 463-7784. We will review the circumstances of the accident and explain your options for pursuing full and fair compensation through our law firm.
Dreyer Boyajian LLP serves clients throughout the Capital District, including Albany, Troy, Schenectady, and Saratoga Springs, as well as other areas of New York.