Medical Malpractice Lawyer
Serving Albany, NY & All of New York State
Medical malpractice claims are different from other kinds of personal injury lawsuits and require diligent and timely action to protect patients' rights.
At Dreyer Boyajian LLP, our medical malpractice lawyers have extensive experience with complex medical malpractice litigation, and we are passionate about pursuing justice on behalf of victims and their families.
Please call (518) 463-7784 for a free evaluation of your case. Our law firm is proud to serve clients in Albany, Troy, Schenectady, Saratoga Springs, NY, and the surrounding areas of New York State.
What Is Medical Malpractice?
When providing diagnosis and treatment, doctors, surgeons, and other medical professionals must uphold what is known as a "standard of care." The standard of care refers to the level at which, given the circumstances, a case would be managed by a competent practitioner.
The standard of care is intended to protect patients. When lapses occur, patients may suffer a number of adverse effects, including:
Delay in life-saving treatment
Delay in timely testing and diagnosis
Developing a serious illness or complication while receiving treatment
Postoperative infection and other complications
Being prescribed the wrong medication
Not receiving a referral to the appropriate specialist
Receiving unnecessary or dangerous treatment
Contact Dreyer Boyajian LLP
Get your free and confidential consultation with one of our medical malpractice lawyers.
Types of Medical Malpractice
Medical malpractice is more than a simple mistake, and negligence and errors can take many different forms.
Common types of medical malpractice claims include:
Failure to diagnose a heart attack or other life-threatening event
Failure to diagnose cancer or another serious illness
Misdiagnosis
Birth injuries, including OB/GYN malpractice during pregnancy, delivery, and after the baby is born
Surgical errors
Anesthesia errors
Emergency room errors
Drug prescription and pharmaceutical errors
Failure to obtain informed consent
Hospital errors
Many instances of medical malpractice occur due to the negligence of staff at the facility, including doctors, nurses, surgeons, administrators, and others. However, in some cases the fault may rest wholly or in part with the manufacturer of a defective or dangerous drug or medical device.
Product liability claims are another complex area of law. If you or a loved one suffered complications from a prescription medication or after being implanted with a defective device, it is important to contact an experienced attorney to handle your case.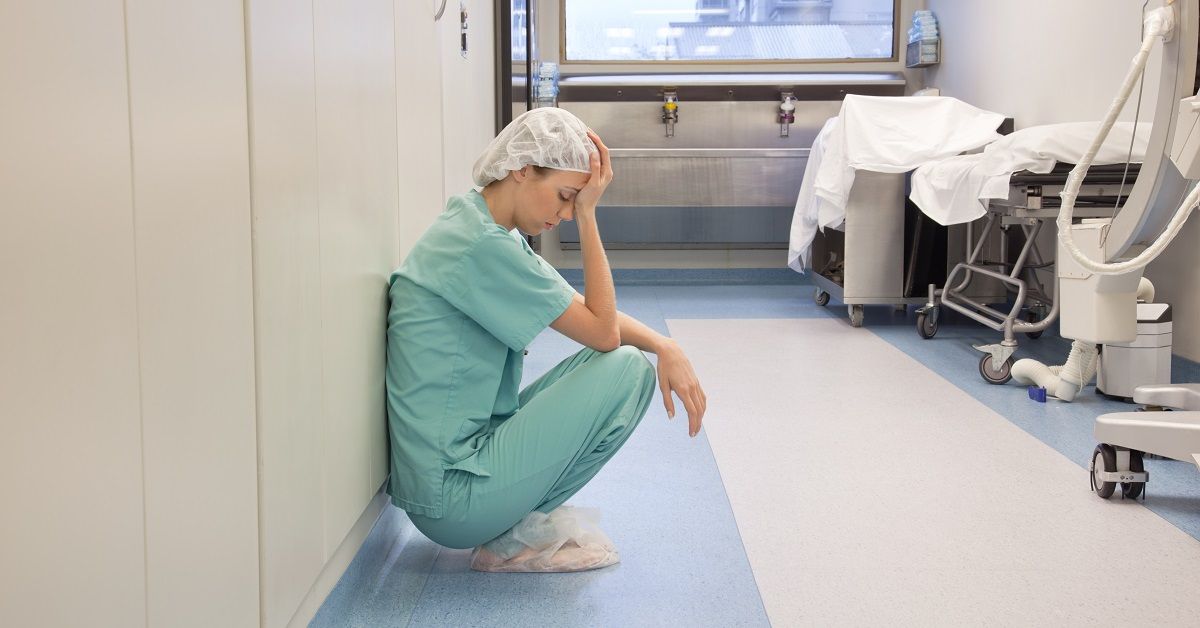 Medical Malpractice FAQ
What Are the Elements of a Medical Malpractice Claim?
Suffering an adverse result while receiving medical care does not necessarily constitute medical malpractice. To recover compensation, you must be able to prove the following:
You were in the doctor or other provider's care (i.e., a professional relationship existed between the provider and the patient)
The healthcare provider was negligent in the handling of your care (i.e., the provider violated the "standard of care" in your case)
You suffered injury as a result of the provider's negligence
Your injury resulted in damages
A medical malpractice lawyer can fully investigate your case, identify the provider (or providers) against whom you may be able to file a claim, and calculate the total value of damages.
How Long Do I Have to File a Medical Malpractice Claim?
Like all personal injury claims, medical malpractice claims are subject to time limits. The statute of limitations in New York for most medical malpractice claims is 2 and a half years. Several exceptions apply:
If your injury occurred because a surgeon left a foreign object inside of you, you have 1 year to file
If you suffered a cancer misdiagnosis, you have 2 years to file
The statute of limitations for medical malpractice wrongful death claims is 2 years
Medical injuries that occur when the patient is a minor (except for cancer misdiagnosis and foreign object injuries) have a 10-year statute of limitations
Bottom line: There is no time to lose if you were injured or a family member died as a result of medical malpractice. It is essential to contact a medical negligence attorney as soon as possible.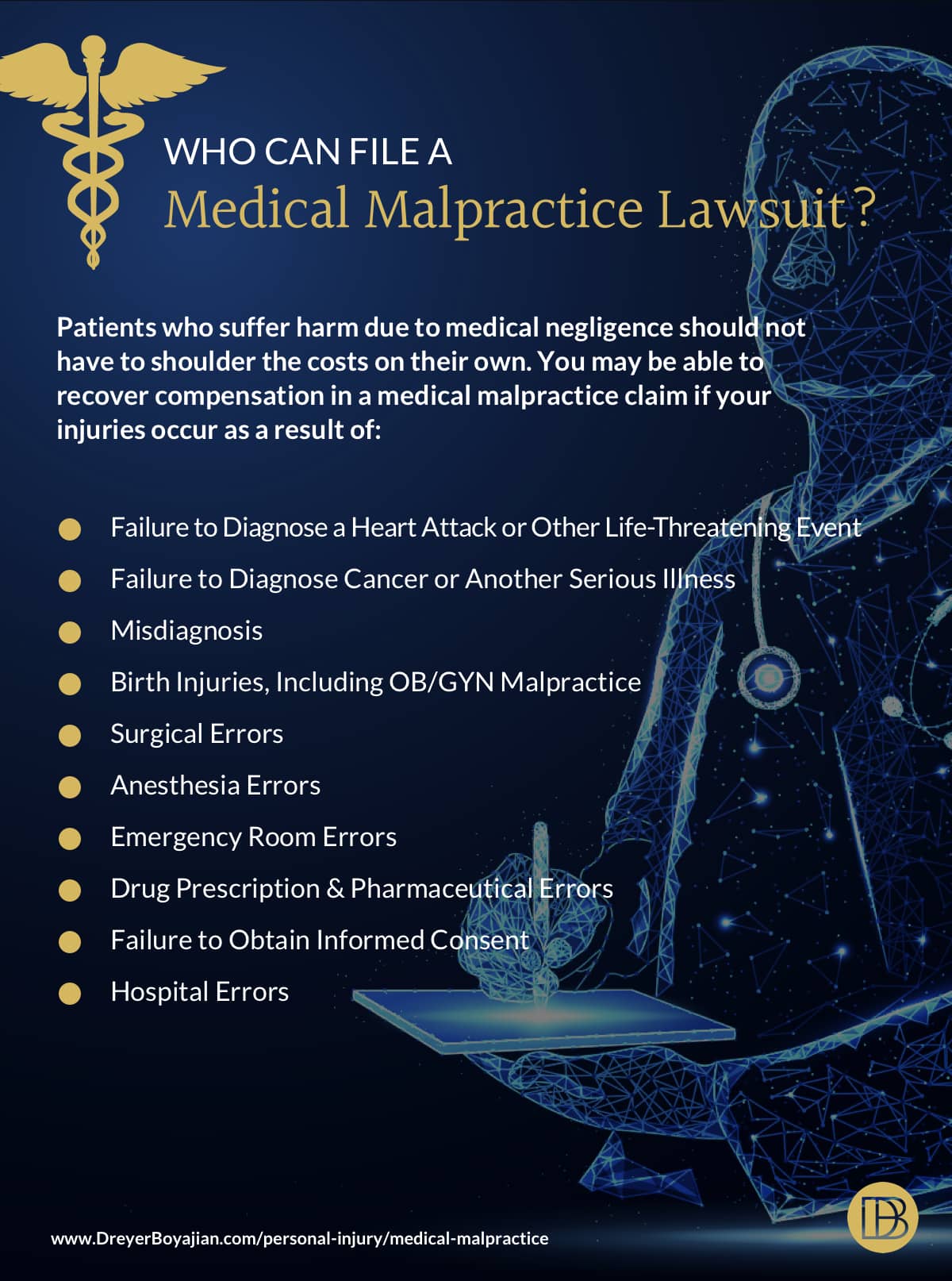 What Should I Do If I Suspect Medical Malpractice?
It can be very difficult for patients or their loved ones to identify negligence on the part of a medical provider. After all, doctors use a lot of unfamiliar vocabulary, and people facing a serious injury or illness are unlikely to question what sounds like a reasonable diagnosis or treatment plan.
Many times suspicions of malpractice begin with a feeling that something is simply not right. Perhaps your condition or the condition of your loved one isn't improving, interactions with the doctor and staff are becoming increasingly contentious, or you feel like you're being ignored.
If this is the situation you are facing, the following steps can help:
Seek a Second Opinion. As a patient, you have the right to seek care from another provider if you are dissatisfied with the treatment you are receiving. You don't have to notify your current doctor, and you don't have to provide a reason for leaving their service.
Gather Your Medical Records. Your medical records contain details on the results of testing, diagnosis information, medications you received, treatments performed, and much more. The records themselves are often difficult for a non-professional to read, but having a full account of the care you have received is crucial for your new doctor to adjust the course of treatment – and for your legal team to identify potential errors.
Keep Your Medical Bills Organized. Your medical bills will reflect the economic losses you have incurred as a result of malpractice. Your lawyer will review these expenses and pursue compensation for them as part of your claim.
Make Notes of Your New Treatment Plan. When you start to suspect medical negligence, start taking notes concerning the diagnosis, the medications you are prescribed, and treatment recommendations. As you begin receiving care from another doctor, continue to take notes, paying close attention to differences in diagnosis and treatment and how you feel as a result. Your notes combined with your medical records may indicate the previous error your doctor made. Any documentation you can provide will be helpful in proving your medical malpractice claim.
Contact a Medical Malpractice Lawyer. If you believe that you or a family member suffered as a result of medical malpractice, it is important to take action as soon as possible. An experienced attorney can advise you of your legal options and build your claim against the provider responsible.
You should not have to shoulder the costs of medical negligence on your own. An experienced attorney can handle the details of your claim while you and your loved ones focus on healing.
Why Do I Need a Medical Malpractice Lawyer?
Successfully pursuing a medical malpractice lawsuit on your own is virtually impossible. When you hire an experienced malpractice lawyer, you will have someone on your side who can advocate for your interest and pursue the full compensation you deserve.
The medical malpractice attorney or law firm you choose needs to have the resources to investigate your case and present compelling evidence. Enlisting experts is crucial to the success of your claim.
Experts can fulfill a variety of different roles in proving medical malpractice:
Reviewing your medical records (or, if your loved one passed away due to malpractice, reviewing the autopsy results)
Demonstrating the link between the provider's negligence and your injuries (or your loved one's death)
Testifying to the severity of your injuries and their impact on your physical, mental, and emotional health and impact on your occupational prospects
Attesting to the standard of care and how a competent medical professional would have proceeded in the same situation
It can be very difficult to find doctors who are willing to testify against other medical providers. This is true even if the witness had no involvement in the substandard care you or your loved one received.
When searching for a lawyer, it is important to check their case results for prior experience in medical malpractice matters. Previous success doesn't guarantee a favorable outcome in your claim, but it may indicate that their skills and experience align well with your needs.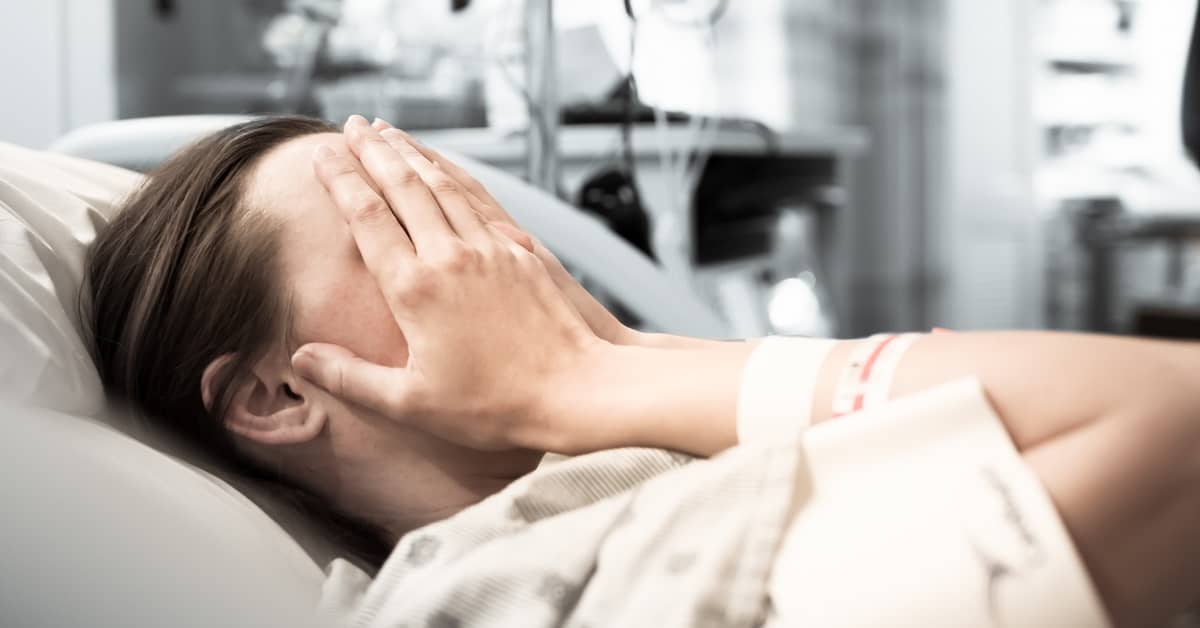 What Compensation Can I Recover in a Medical Malpractice Claim?
The complications of medical errors can create a lifetime of serious problems. These range from physical disability and loss of bodily function to changes in mental state and emotional issues such as anxiety and depression. The ramifications for patient health and quality of life are exacerbated by the financial burdens associated with medical malpractice.
As a result of these factors, the damages incurred due to medical negligence are often massive. If malpractice by a doctor or other medical professional caused your injuries, you deserve compensation for the losses you have sustained.
Compensation may be available in your medical malpractice claim for:
Medical bills
Lost wages
Diminished earning capacity
Pain and suffering
Loss of consortium
Other out-of-pocket expenses
New York is in the minority of states in that it places no caps on the damages available in medical malpractice claims. This is beneficial for plaintiffs and their families, as it means your financial recovery will not be subject to a statutory limit.
The same is true when medical malpractice results in wrongful death. Although monetary compensation is not a replacement for more time with someone you love, a verdict or settlement in your favor can offset many of the costs you face after a family member passes away:
Lost wages
Loss of financial support from expected wages, investment earnings, etc.
The cost of funeral, burial, and/or cremation services
Loss of services and support your loved one provided you
Medical expenses for your loved one's care prior to their passing
Your loved one's pain and suffering
REMEMBER: Wrongful death claims involving medical malpractice must be filed within 2 years – six months less than most cases involving injury caused by medical errors.
How Much Will I Get in a Medical Malpractice Lawsuit?
Although we could share the results of our previous cases or quote statistics on average recoveries in a medical malpractice lawsuit, the fact is that this information has limited relevance to your case. Circumstances that can affect how much you may be able to recover include:
The nature and extent of your injuries
The damages you and your family have sustained
Whether the case is settled out of court or goes to trial

Jury awards for medical malpractice claims are generally higher than settlement amounts.
– HOWEVER, taking a case to trial does not guarantee a successful outcome.

The nature of the malpractice – recovery may be higher in cases involving willful recklessness and egregious misconduct
When consulting with a medical malpractice lawyer, it is important to know what experience the attorney has in cases like yours and results he or she has achieved in the past. It is also important to ask what your claim may be worth.
What Does It Cost to Hire a Medical Malpractice Lawyer?
Concerns about cost are a major reason people hesitate to hire an attorney. However, the vast majority of medical malpractice lawyers take clients' cases on a contingency fee basis. With this arrangement, you pay nothing upfront, and you only pay attorney fees if the lawyer or law firm prevails in your case. The attorney fee is typically a percentage of the recovered sum.
Dreyer Boyajian LLP handles all medical malpractice claims on a contingency fee basis. Your initial consultation is free, so there is no upfront cost to speak with a lawyer about your case!
How Dreyer Boyajian LLP Can Help with Your Medical Malpractice Claim
Due to the complexities of medical malpractice cases, experience is crucial in finding the right lawyer to handle your case. In addition to skill and resources, the quality of service is another important consideration.
The medical malpractice lawyers at Dreyer Boyajian LLP combine proven results in medical malpractice litigation with a one-on-one client focus to deliver an unparalleled client experience. We are very grateful for all of the reviews our clients have left that compliment not only the results our firm has achieved but the care with which we handle each case.
Dreyer Boyajian LLP has been serving clients in Albany and throughout the Capital District for over 30 years. We are passionate about attaining justice on behalf of our clients, and we are not afraid to face massive institutions and multimillion-dollar insurance companies if that is what your claim requires.
Negligence on the part of a medical provider often has dire consequences for patients. Dreyer Boyajian LLP is recognized as one of the preeminent personal injury litigation firms handling complex cases involving professional malpractice on the part of a medical professional or facility.
If you think you have not received the expected level of care and you suffered injuries or lost a loved one as a result of the negligence, please call (518) 463-7784 today for a free review of your medical malpractice case. Our attorneys serve clients in Albany, Troy, Schenectady, Saratoga Springs, and nearby areas of New York.