Slip and Fall Attorney
Serving Albany, NY & All of New York State
What are your legal rights if you were injured in a slip and fall accident? If you are being forced to ask this question, we encourage you to give us a call. Our slip and fall attorneys have been helping accident victims in Albany, Troy, Schenectady, Saratoga Springs, NY, and throughout the Capital District recover just compensation for more than 35 years. We can explore your legal rights and, if you have a claim, we can help you recover the financial compensation you are owed.
As with all types of personal injury accidents, when seeking financial compensation for a slip and fall, you need evidence to prove your claim. It is one thing to allege that a property owner or business owner is liable for your injuries, but proving it is another matter entirely.
At Dreyer Boyajian LLP, we rely on extensive legal experience to pursue just compensation on behalf of our clients. Our slip and fall attorneys gather evidence to prove your claim, and we will fight until we have secured just compensation on your behalf.
When Can You Seek Financial Compensation for a Slip and Fall Accident in New York?
Slip and fall accident claims are rooted in the law of negligence. In order to recover financial compensation, you must be able to use the available evidence to prove that you slipped and fell because of someone else's negligence.
Within the context of premises liability law, negligence can take many different forms, including:
Failure to clean up a spill
Failure to mop an entryway that is wet from rain or melted snow
Failure to place warning signs around a recently mopped floor or by the door of a recently-cleaned bathroom
Failure to replace a flooring surface that has become slippery due to long-term wear
Failure to treat icy or snowy sidewalks or parking lots
Failure to install or repair necessary lighting to illuminate potentially hazardous areas
Failure to repair or replace dangerous handrails, stair treads, and other potential slip-and-fall hazards
Depending on the circumstances involved, each of these failures can potentially reflect a property owner's or tenant's insufficient efforts to meet New York's duty of care. In Albany and other cities, property owners and tenants have a duty to maintain their premises in reasonably safe condition for reasonably foreseeable visitors and guests.
If a property owner or tenant fails to meet this duty of care, then that property owner or tenant is negligent and potentially liable for injuries sustained in a subsequent slip and fall accident.
What Types of Property Owners and Businesses Can Be Held Liable for Injuries from Slips and Falls?
New York's duty of care for maintaining premises in reasonably safe condition applies to all property owners and tenants. This includes owners of residential, commercial, and industrial property, and it applies to all businesses regardless of whether they own or lease the premises from which they operate. Examples include, but are by no means limited to, venues and businesses such as:
Bars and nightclubs
Entertainment venues
Gyms and fitness centers
Hospitals and other medical facilities
Professional offices and office buildings
Retail stores, restaurants, shopping centers, and malls
Sports stadiums
Supermarkets and big box stores
Warehouses, factories, and industrial buildings
When seeking financial compensation for a slip and fall accident, the question is not so much where you fell as it is why you fell. If you fell on someone else's property, and if you fell because of an unreasonably unsafe property condition, you may be entitled to financial compensation under New York law.
Does Homeowner's Insurance Cover Injuries Sustained Due to Slips and Falls?
What if you slipped and fell at someone else's home? In New York, the same basic principles apply. Commercial and residential property owners are held to the same standards; if a residential property owner should have done more to prevent you from being injured, then you may be entitled to a financial recovery.
Does this mean that you will need to sue your neighbor? Homeowner's insurance policies typically cover liability claims arising out of slip and fall accidents. Renter's insurance policies do, too, although you will need to determine whether you have a claim against the renter or the landlord.
Contact Dreyer Boyajian LLP
Get your free and confidential consultation with one of our slip and fall lawyers.
What Evidence Do You Need to Prove a Slip and Fall Claim in New York?
Earlier, we mentioned that you need evidence to prove your claim for damages. Similar to negligence itself, evidence of negligence can take many different forms, and the evidence that is available to prove your claim will depend on factors including the cause of your fall, where the accident occurred, and how much time has transpired.
Oftentimes, physical evidence will disappear before you have time to engage a law firm to conduct an investigation. For this reason, it is imperative that you seek legal representation promptly. Do not wait any longer than necessary. And, whatever you do, do not wait for the property owner or insurance company to take action. As the claimant, you need to take control of the process, and it is up to you to gather the evidence you need to establish liability.
When clients hire us to handle their slip and fall cases, we investigate right away. Ideally, we will be able to take photos and perhaps gather physical evidence from the scene of your fall. However, if the dangerous property condition has disappeared or been remedied, then this may not be possible. In this scenario, we focus our efforts on gathering evidence from other sources.
While each slip and fall case necessarily involves its own unique evidence, the types of evidence we may seek to collect during a premises liability investigation include:
Photographs of the dangerous property condition
Eyewitness statements
Surveillance camera footage
Accident reports
Damaged clothing and personal items
Medical records detailing the nature and extent of our client's injuries
Property owners and insurance companies often try to place blame on accident victims in slip and fall cases. By thoroughly investigating and gathering relevant evidence, our attorneys will strive to anticipate and refute these arguments.
How Do You File a Slip and Fall Claim?
While you can report the accident to the owner of the property or business where you slipped and fell, this does not start the formal claims process. In order to initiate a claim, you will need to hire an attorney.
After conducting an investigation and gathering the evidence needed to establish liability, our attorneys will initiate legal proceedings on your behalf. Once the lawsuit is filed, the property owner's insurance company may enter negotiations to settle your claim.
Slip and fall cases are often resolved before going to court, but this doesn't happen in every instance. If the owner or insurance company disputes fault in the accident, it may not be possible to reach an acceptable settlement.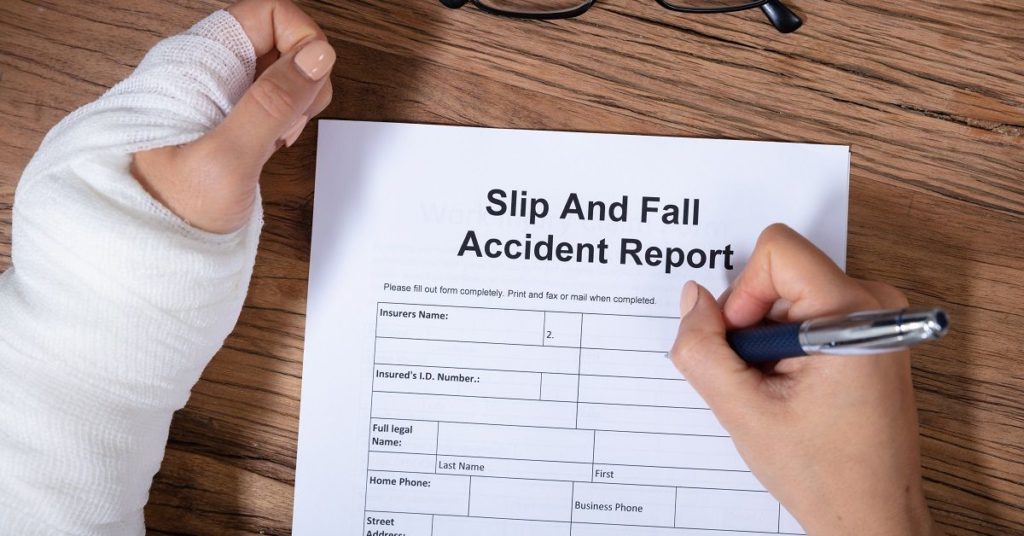 How Can an Attorney at Dreyer Boyajian LLP Help with Your Slip and Fall Claim?
At Dreyer Boyajian LLP, we help our clients by conducting thorough investigations, providing clear and honest case assessments, and vigorously asserting their legal rights. If you are entitled to compensation for a slip and fall accident in Albany, Saratoga Springs, or any of the surrounding areas, we can use our experience to help you recover.
As your slip and fall accident lawyers, we will also:
Be Available to You By Phone, Text, and Email. You will have direct access to our attorneys throughout the duration of your case, and we will respond to your voicemails, text messages, and emails as soon as possible.
Help You Obtain Medical Care from Trusted Doctors. We work closely with doctors in and around Albany who specialize in treating patients with traumatic injuries. We can refer you to a specialist who will do his or her part to help prove your claim for damages.
Calculate the Long-Term Financial and Non-Financial Costs of Your Injuries. In most cases, the long-term costs of traumatic injuries will represent the largest part of a claim for compensation. Our lawyers will work closely with you and your doctors to make sure we are seeking every penny you are owed.
Help You Carefully Evaluate Your Options for Settlement. Deciding when to settle your claim isn't easy. It is also a decision that could very well impact the rest of your life. If the property owner, business owner, or insurance company proposes a settlement, we will help you make a fully informed decision about whether to accept or reject.
Take Your Slip and Fall Case to Trial If Necessary. Finally, if necessary, we stand ready to present your case before a jury if no settlement offer arrives or the offered amount doesn't meet your needs.
Ultimately, we share in your goal of achieving the full compensation you deserve. Our law firm has a history of earning significant recoveries on behalf of clients in Albany and nearby communities of New York.
Are you ready to speak with an attorney about your slip and fall case? Please call (518) 463-7784 or tell us about the accident online.