Our Albany Motorcycle Accident Lawyers Have More Than 30 Years of Experience Helping Riders and Their Families Recover Just Compensation.
Victims of motorcycle accidents often sustain serious traumatic injuries. Our Albany personal injury attorneys at Dreyer Boyajian LLP have handled hundreds of motorcycle claims over the last 30 years. The vast experience we have gathered includes representing motorcyclists who have suffered brain and head injuries, amputations and other traumatic injuries due to the negligence of motorists who injured our motorcyclist clients. We can help you as well.
In New York, recovering financial compensation after a motorcycle accident is different from recovering financial compensation after being injured while driving a car, truck, or SUV. While there are a number of reasons why, one of the main reasons is that New York's "no fault" insurance law does not apply to motorcycle accident claims. This means that you do not need to prove that you have suffered a "serious" injury in order to seek fault-based compensation.
Of course, most injuries from motorcycle accidents are serious by default. Any time you lay down your motorcycle on the road, there is a high risk that you will suffer a severe traumatic injury. Even if you are wearing a helmet and full riding gear, the impact and friction forces involved in a motorcycle accident can be far greater than the forces your gear is designed to handle.
As a motorcycle accident law firm that has been representing riders in Albany and the surrounding areas for more than 30 years, this is a fact we know all too well.
If you have been injured in a motorcycle collision in New York, there is a lot you need to know. The same is true if you have lost a loved one in a riding accident. While the law provides you with clear legal rights, asserting your rights can be a challenge, and injured riders and their families will often face long and difficult roads to recovery.
Contact Dreyer Boyajian LLP
Get your free and confidential consultation with one of our motorcycle accident lawyers.
Why Do Motorcycle Riders and Families in Albany Trust Dreyer Boyajian LLP?
Our lawyers have handled hundreds of motorcycle accident claims over the past 30 years. With offices in Albany and Saratoga Springs, we represent clients throughout the Capital District metropolitan area.
If you are entitled to financial compensation for the effects of a motorcycle accident, we can help you recover. We can prove that someone else is to blame for what happened, and we can accurately calculate the immediate and long-term financial and non-financial costs of your injuries or your family member's death.
Why have hundreds of motorcycle accident victims placed their trust in the attorneys at Dreyer Boyajian LLP? While we prefer to let our clients speak for themselves, our results are among the factors that set us apart from other law firms in the Albany area:
Our Experience – Our injury attorneys have well over 100 years of combined experience handling personal injury, wrongful death, and other similar types of claims. Our founders, William J. Dreyer and Donald W. Boyajian, have each been practicing law for more than 35 years.
Our Focus – Our practice is focused heavily on personal injury and wrongful death representation. We are concentrated in and around Albany, NY. Both of these factors allow us to stay at the forefront of developments affecting our clients' rights. We take our commitment to justice seriously.
Our Results – We have won millions of dollars in compensation for our clients, including more than 25 settlements and verdicts of $1 million or more. We place our client's interests first in every case, and we work tirelessly to help each and every client recover maximum compensation.
When Is an Injured Motorcycle Rider Entitled to Financial Compensation in New York?
As we mentioned above, New York's "no-fault" insurance law does not apply to motorcycle riders. This means that all motorcycle accident cases involve either: (i) fault-based claims for financial compensation, or (ii) strict liability claims for product defects.
If the driver who hit you or forced you off of the road was insured, you will probably need to file a claim under his or her bodily injury liability (BIL) policy. If the at-fault driver is uninsured or fled the scene of the accident, then you may need to rely on your own uninsured/underinsured motorist (UIM) insurance. If you crashed as the result of a malfunction caused by a product defect, then your primary source or compensation may be a strict liability claim against the manufacturer. In any case, recovering your losses starts with determining the cause of your crash.
You know you went down, and you know that you did not do anything wrong. You were riding within your limits, you were complying with New York's motorcycle safety law, your motorcycle was in good shape, and you were paying attention to your surroundings. So, someone – or something – else must be to blame. How do you prove it?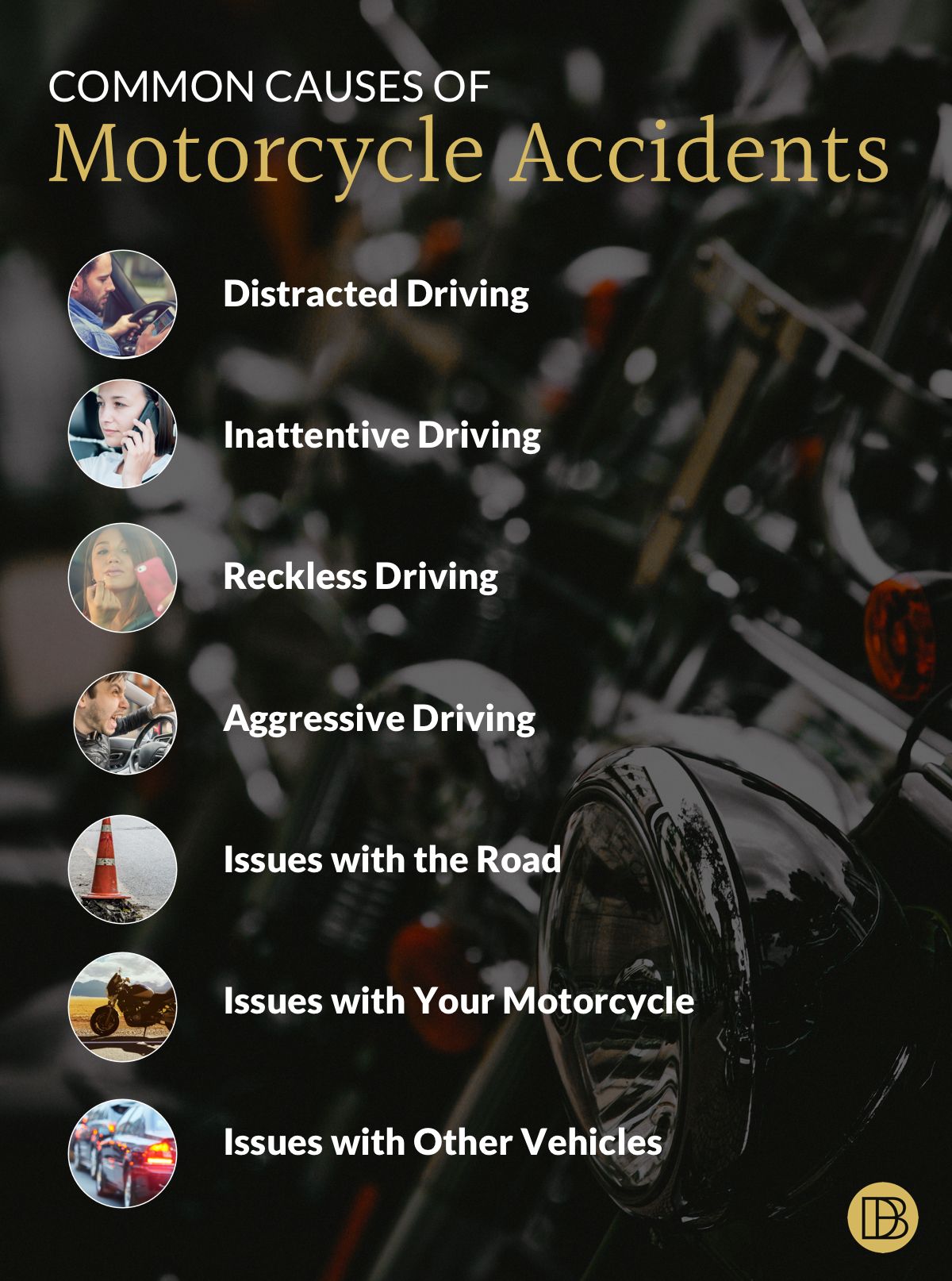 In order to prove that you are entitled to financial compensation, you will need evidence to support your claim. This means conducting an investigation at the scene of the accident, inspecting each vehicle involved in the crash, and potentially gathering evidence from other sources as well. Each of these steps should be taken as soon as possible, and we encourage you to contact us immediately so that we can begin collecting critical evidence right away.
If the evidence indicates that any of the following factors played a role in your crash, we can use this to seek just compensation on your behalf:
Distracted driving – Such as texting, talking on the phone, eating or drinking, or following GPS directions.
Inattentive driving – Such as merging without looking, drifting out of the driver's lane, or turning in front of an oncoming motorcyclist.
Reckless driving – Such as speeding, ignoring traffic signals or stop signs, or failing to yield.
Aggressive driving – Such as tailgating, weaving through traffic, and cutting off motorcyclists traveling at speed.
Issues with the road – Such as dangerous debris, potholes, road surfaces, or visual obstructions.
Issues with your motorcycle – Such as defective brakes, clutch components, wheels, or tires.
Issues with the other vehicle – Such as defective components, failure to perform necessary maintenance work, or faulty maintenance or repairs.
While these are all among the most common causes of motorcycle accidents, this list is by no means exhaustive. If you went down in a high-side or low-side accident for any reason, we want you to call us before you make any decisions that could jeopardize your legal rights.
When Can a Family Seek Financial Compensation for a Motorcycle Rider's Wrongful Death?
If you have recently lost a family member in a motorcycle accident, we offer our deepest condolences. This is a tragic time for you and your family, and we understand that you are searching for answers. Our motorcycle accident attorneys and professional staff members are available to help, and we encourage you to contact us so that we can explain your legal situation.
With regard to financial compensation, the factors listed above apply equally in cases of personal injury and wrongful death. If a negligent driver, a government agency, or a large company is to blame for your loved one's death, you and your family deserve to be compensated. Our attorneys can walk you through your case step-by-step, and we can use our experience to fight for justice while you take the time you need to grieve.
How Does New York's Comparative Fault Law Impact Motorcycle Accident Claims?
While motorcycle accident claims can present a number of challenges, one of the biggest challenges injured riders and families often face is an allegation of "comparative fault." Under New York law, if a motorcycle rider is partially at fault in an accident, then the amount, he or she (or his or her family) is entitled to recover is reduced in proportion to his or her percentage of liability.
To illustrate, let's consider a hypothetical example:
A driver clipped your front wheel while changing lanes in front of you on I-87.
The driver failed to check his or her blind spot, and you clearly had the right of way. However, you were also riding at slightly above the posted speed limit. Based on these facts, it is determined that you were 10 percent at fault in the collision.
Let's also assume that your total losses resulting from the accident are $250,000. Under New York's comparative fault law, your recovery would be reduced by 10 percent ($25,000), so the final value of your claim would be $225,000.
As you can see, under this hypothetical scenario, it is still well worth filing a claim for just compensation. In fact, even if your percentage of fault was significantly higher, it would likely still be worth hiring a motorcycle accident lawyer to pursue your claim.
Critically, while some motorcycle accidents involve questions of comparative fault, many riders and families can recover 100 percent of their accident-related losses. When dealing with the insurance companies, it is essential that you not let them convince you to settle for less than you deserve. At Dreyer Boyajian LLP, we can use our experience in motorcycle accident cases to appropriately apportion liability in your case, and we can make sure the insurance companies do not take advantage of you.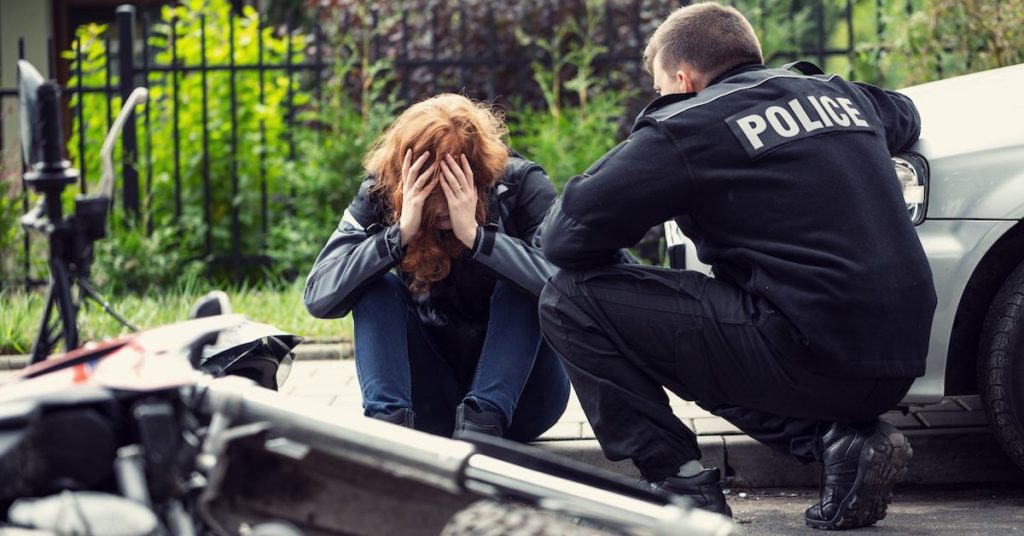 What Types of Injuries Are Eligible for Personal Injury Compensation in New York?
Regardless of whether your case will involve an auto insurance claim, a product defect claim, a negligence claim against a government agency or contractor, or all of the above, you are entitled to just compensation regardless of the nature of your injury. When it comes to seeking financial compensation, the question is not so much where you were injured, but rather how your injuries will impact your life – now and in the future.
We represent motorcycle riders who have been diagnosed with all types of traumatic injuries. This includes, but is not limited to:
Broken bones
Burns and scarring (including injuries from road rash)
Concussions and other traumatic brain injuries (TBI)
Disc fractures, herniations, and other spinal cord injuries (SCI)
Emotional trauma and post-traumatic stress
Eye, nose, and ear injuries (including loss of sight, smell, and hearing)
Loss of limbs (including amputations due to irreparable traumatic injuries)
Soft tissue injuries
How Much Will It Cost to Hire an Attorney for My Motorcycle Accident Injury Claim?
As someone who is struggling to cope with the consequences of a motorcycle accident, you have enough to worry about without wondering how much your attorney is charging you. We understand this, and this is why we offer a fee structure that is as straightforward as possible.
At Dreyer Boyajian LLP, we will handle your motorcycle accident claim on a contingency-fee basis. This means:
We do not charge a retainer fee.
We do not charge hourly rates.
We advance the costs of pursuing your claim.
You pay nothing unless we win just compensation.
But, doesn't this mean that your legal fees could consume the full amount of your recovery? No, absolutely not.
We calculate our fees as a percentage of your award (we will explain this in detail at the outset of your case), and it is always up to you whether to accept a settlement offer or keep fighting for more. In the end, our clients' satisfaction is far more important than the fees we earn in any particular case, and we are fully committed to making sure our clients have the money they need to move on with their lives.
Can Your Attorneys Come to My Home or Hospital Room in Albany?
Yes, absolutely. If you are too injured to come to our offices, or if you simply find it difficult to travel given your current circumstances, one of our motorcycle accident attorneys will be happy to meet with you at home or in the hospital. In fact, we routinely travel to meet with prospective clients all across Albany and throughout the Capital District metropolitan area.
We also understand that work schedules, doctor's visits, and other obligations can make it difficult to schedule an appointment during normal business hours. As a result, we make ourselves available 24/7.
Get Started Today with a Free Initial Consultation
Do you need to speak with a motorcycle accident lawyer about seeking financial compensation after a motorcycle accident in Albany? If so, we want to hear from you, and we encourage you to get in touch with us as soon as possible. To schedule a free initial consultation at your convenience, give us a call at 518-463-7784 or contact us online.