Experienced Attorneys for Injured Cyclists and Pedestrians in the Capital District Area
In Albany, Sarasota Springs, and other areas throughout the Capital District, cycling, jogging, and walking to work are ways of life for many residents. While relatively few brave the cold winter months, other times of year it is not unusual to see multiple bicycle riders and pedestrians exercising or commuting on a daily basis.
Unfortunately, while cycling, walking, and running are good for your health and good for the environment, they can also be dangerous. Bicycle and pedestrian accidents are common, and they often result in serious injuries. For obvious, but tragic, reasons, these accidents also result in death at a disproportionately high rate; each year hundreds of New York families are forced to grieve the untimely loss of loved ones due to fatal bicycle and pedestrian collisions.
We Help Accident Victims and Grieving Families
At Dreyer Boyajian LLP, we provide impassioned legal representation for individuals who have been seriously injured in bicycle and pedestrian accidents and for families who have lost loved ones too soon. Our attorneys bring decades of experience to the table, and we have recovered millions for our clients' losses. In order to represent our clients to the best of our ability, we take a team approach, and we work closely with our clients to ensure that we – and they – have all of the information necessary in order to recover maximum compensation.
When Do Bicyclists and Pedestrians Have the Right of Way?
Bicyclists and pedestrians have the right of way under different circumstances. We'll discuss bicycles first. Under New York law, bicyclists have the same right to share the road as drivers of cars, trucks, SUVs, and other motor vehicles in many scenarios.
As explained by the New York Department of Transportation (NY DOT):
"The same laws that apply to motor vehicle operators, with some obvious exceptions and special rules, apply to cyclists. . . . Bicyclists have the legal right to share the road on most public highways, but they are prohibited on interstate highways and expressways. . . . If there is a usable bicycle lane, the bicyclists must use it. If there is no bicycle lane or it is unusable due to parked cars or other hazards, the bicyclists may drive either on the right shoulder or near the right edge or curb of the roadway. Bicyclists may move further left to avoid hazards such as parked cars or debris, but the bicyclists must avoid undue interference with other traffic."
In general, unless there is a bike lane, cyclists have the right to occupy a safe amount of space in the road. As the NY DOT goes on to state, "Smart cyclists plot a line straight down the roadway three to four feet from the curb or parked car. This allows them space to avoid road hazards and to be more visible to motorists and pedestrians."
With regard to pedestrians, the NY DOT provides the following general rules:
At crosswalks controlled by traffic signals, pedestrians have the right of way when the signal indicates that it is their turn to cross.
Pedestrians have the right of way in crosswalks that are not controlled by traffic signals.
If there is no crosswalk, pedestrians can cross the road (except where jaywalking is prohibited), but they must yield the right of way to approaching vehicles.
When a driver must cross a sidewalk (i.e., to enter a parking garage or access an alley or driveway), the driver must yield the right of way to pedestrians.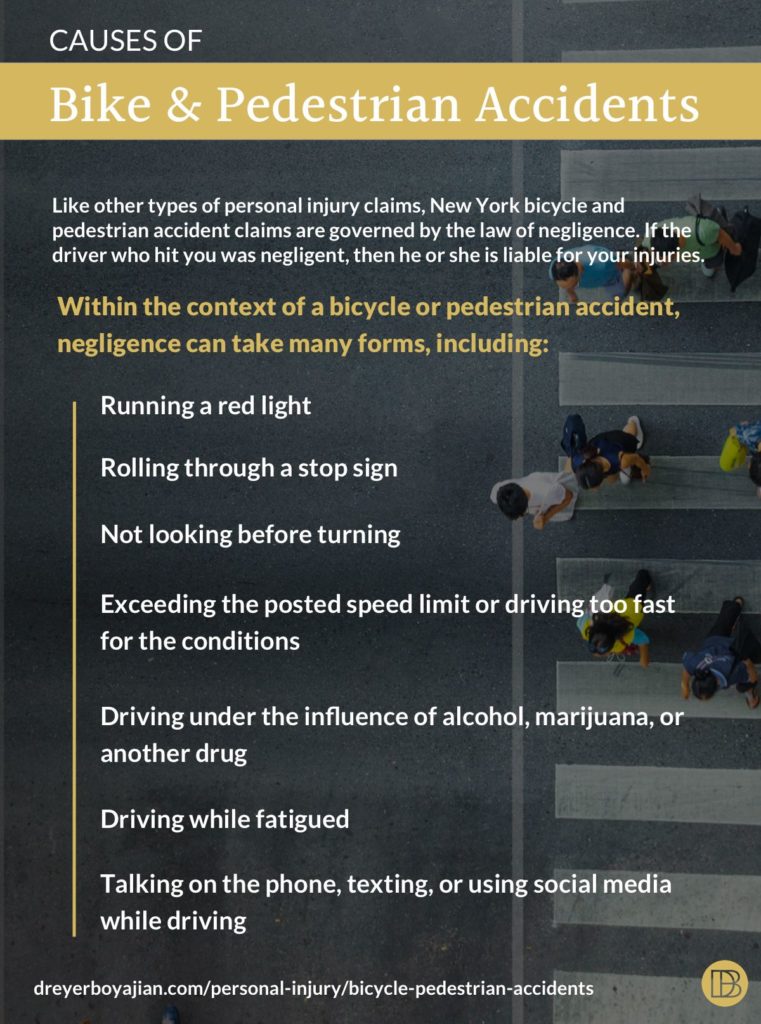 When Can Injured Cyclists and Pedestrians Seek Just Compensation?
When a driver hits a cyclist or pedestrian who has the right of way, in the vast majority of cases, the driver will be liable for the cyclist's or pedestrian's losses resulting from the collision. However, when evaluating your legal rights after a bicycle or pedestrian accident, it is important not to focus solely on the question of who had the right of way.
Like other types of personal injury claims, New York bicycle and pedestrian accident claims are governed by the law of negligence. If the driver who hit you was negligent, then he or she is liable for your injuries. Within the context of a bicycle or pedestrian accident, negligence can take many forms, including:
Running a red light
Rolling through a stop sign
Not looking before turning
Exceeding the posted speed limit or driving too fast for the conditions
Driving under the influence of alcohol, marijuana, or another drug
Driving while fatigued
Talking on the phone, texting, or using social media while driving
This list is not exhaustive. If you were riding your bike or on foot and you were abiding by the law, there is no justification for a driver hitting you. These cases can be complicated, so we encourage you to contact us for a free consultation about your legal rights.
Contact Dreyer Boyajian LLP
Get your free and confidential consultation with one of our bicycle & pedestrian accident lawyers.
When Can Families File Wrongful Death Claims for Fatal Accidents?
Wrongful death claims are governed by the same legal standards as personal injury claims in New York. In other words, if your loved one's death resulted from a driver's negligence, then your family is entitled to just compensation.
Our attorneys have significant experience representing families in cases of wrongful death. If your child, parent, or spouse was tragically killed in a bicycle or pedestrian accident in the Capital District area, we can help your family recover.
What Financial Compensation Is Available?
In cases involving serious but non-fatal injuries, our attorneys help cyclists and pedestrians to pursue just compensation for all of their accident-related losses. This includes financial and non-financial losses, and it includes current and future losses as well.
In New York, the damages available to bicycle and pedestrian accident victims diagnosed with brain injuries, spine injuries, and other serious traumatic injuries may include:
The cost of medical bills
Pain and suffering associated with your injury
Lost wages while you were unable to work
Loss of future earnings if you are unable to work at your job in the future
Loss of quality of life, loss of enjoyment of life, and other non-financial losses
In cases involving fatal bicycle and pedestrian accidents, family members can recover the financial losses resulting from their loved one's untimely death. This includes medical, funeral, and burial or cremation expenses, as well as loss of future earning capacity. In certain situations, family members can also recover compensation for their loved ones' pain, suffering, and emotional trauma prior to death.
In addition to the extraordinarily challenging emotional issues involved with recovering from a fatal accident, there are uniquely complex legal issues as well. Dreyer Boyajian LLP is here to help with the legal matters so you can focus on healing.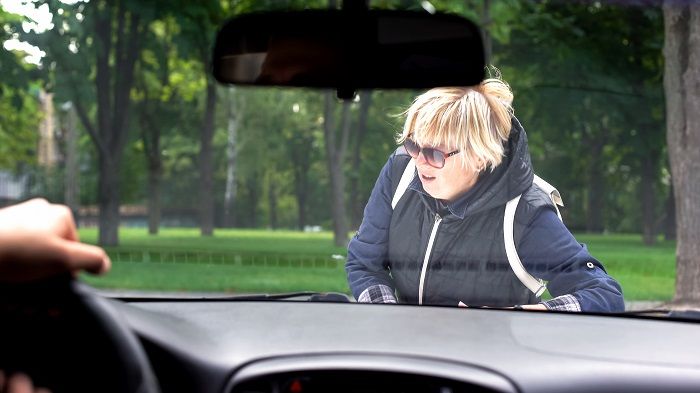 How Do You Prove Liability After a Bicycle or Pedestrian Accident?
No matter how obvious it may seem that the driver who hit you or your loved one was at fault, you must still prove liability in order to recover just compensation. By the same token, even if the driver fled the scene and it seems that all hope is lost, there may still be ways our attorneys can prove your claim for damages.
When it comes to proving fault and proving how much you are entitled to recover, the key is to collect comprehensive evidence that is admissible in court. As your attorneys, we will build your case using evidence such as:
Evidence of negligence in a bicycle or pedestrian accident:
Eyewitness testimony
Video footage from traffic cameras, security cameras, or cell phones
Photos from the scene of the accident
An inspection of the vehicle (and bicycle, if relevant)
Other evidence obtained from a forensic investigation of the accident scene
A computer-rendered reconstruction of the accident
Expert testimony from investigators, engineers, and other professionals
Evidence of losses resulting from a bicycle or pedestrian accident:
Medical records from your emergency room or urgent care visit
Medical records for your hospital stay and follow-up care
Employment records
Testimony from family members, coworkers, and friends
Reports and testimony from doctors, psychologists, and other experts
Your daily notes, calendar, or pain journal
Bills and receipts for home maintenance, landscaping, child care, and other costs you are forced to incur
While these lists might look overwhelming, Dreyer Boyajian LLP works hard to make the process of recovering just compensation as simple for our clients as possible. We will hire investigators to do the legwork necessary to gather evidence of negligence, and, with your permission, we will work with your doctors directly in order to accurately calculate your losses.
What If I (or My Loved One) Was Partially at Fault?
The question of partial fault frequently comes up in bicycle and pedestrian accidents. Either:
New clients come to us concerned that they may not be entitled to financial compensation
OR
The at-fault driver's insurance company tries to blame our client or the deceased for playing a role in the collision
Fortunately, New York's "comparative fault" law may enable you to obtain partial compensation even if you or your loved one was partially at fault. New York is one of the limited number of states that has adopted the rule of "pure" comparative fault. Under this rule, accident victims are never fully barred from seeking just compensation – no matter how significant of a role they played in causing an accident.
But, this does not mean that you should be willing to accept partial responsibility or a reduced settlement. While the insurance companies will often try to blame victims for their own injuries, this blame is frequently misplaced. As we discussed above, bicyclists and pedestrians have clear legal rights in New York. The vast majority of the time, accidents occur because drivers are being reckless or using their phones behind the wheel.
So, while it is natural to question whether there might possibly have been something that you or your loved one could have done to avoid being hit, you absolutely should not allow this to prevent you from speaking with an attorney about your legal rights.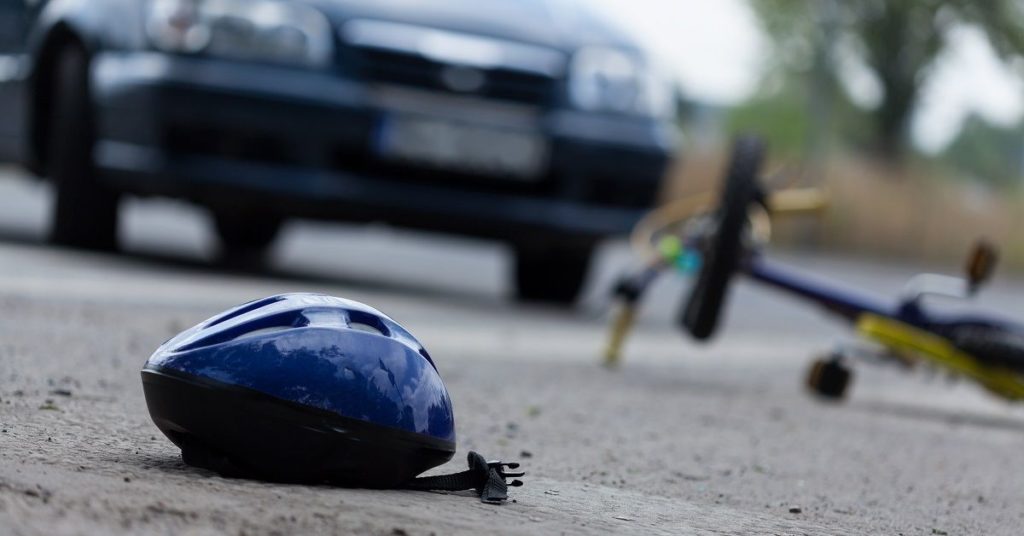 How Long Do I Have to File a Claim?
The amount of time you have to file a claim is known as the "statute of limitations." In New York, the statute of limitations for non-fatal accidents is three years. For fatal accidents, the statute of limitations is two years.
For non-fatal accident claims, the statute of limitations generally runs from the date of the accident. For fatal accident claims, it runs from the date of death. However, in all cases, waiting any longer than necessary can have adverse consequences; once again, we encourage you to contact us right away.
What Are My Next Steps?
We know this is a lot to process. If you have suffered a disabling injury or are coping with the loss of a family member, we know that you have a lot to deal with already. But, we also know that asserting your legal rights is important, and we have seen firsthand what happens when accident victims and families wait too long to take legal action.
When you choose our firm to represent you, our New York bicycle and pedestrian accident attorneys will take control of your case from day one. We will launch an investigation promptly, and we will advise you so that you know what mistakes you need to avoid. Our attorneys will deal with the insurance companies on your behalf, we will work with your doctors and our trusted experts to calculate your losses, and we will use our experience in these kinds of cases to make sure you and your family recover the financial compensation you deserve.
Schedule a Free Initial Consultation at Dreyer Boyajian LLP
If you would like to speak with one of our attorneys about your legal rights, please call (518) 463-7784 or contact us online to arrange a free initial consultation. With offices in Albany and Saratoga Springs, we represent accident victims and families throughout the Capital District area.