Auto Accident Attorney
Serving Albany, NY & All of New York State
Suffering a serious injury in a car wreck can change your life forever. For over 35 years, Dreyer Boyajian LLP has fought to help car accident victims in Albany, Schenectady, Troy, Saratoga Springs, NY, and throughout New York State recover just compensation. Our auto accident attorneys have secured tens of millions of dollars for drivers, passengers, bicyclists, and pedestrians injured by cars, trucks, buses, and motorcycles. We also represent family members who have tragically lost loved ones in wrongful death actions.
Our goal is simple: to get you the justice that you deserve. We will represent you with compassion and respect, fight to hold responsible parties and insurance companies accountable, and work diligently to recover full compensation for your losses as quickly as possible.
For more information about our process or if you believe you have a case, we welcome you to contact us today. We'd be happy to provide you with a free consultation.
Contact Dreyer Boyajian LLP
Get your free and confidential consultation with one of our car accident lawyers.
What Is a "Serious" Injury Under New York Law?
If you were involved in a car accident and suffered a "serious injury" as defined by Section 5102(d) of the New York Insurance Law, you may be able to recover more than statutory No-Fault benefits. Serious injury is defined as personal injury which results in one of the following:
Death
Dismemberment
Significant disfigurement
Fracture
Loss of a fetus
Permanent loss of use of a body organ, member, function or system
Permanent consequential limitation of a body organ or member
Significant limitation of use of a body function or system
Medically determined injury or impairment of a non-permanent nature which prevents the injured person from performing substantially all of the material acts which constitute such person's usual and customary daily activities for not less than 90 days during the 180 days immediately following the occurrence of the injury or impairment.
While the first six categories of the serious injury threshold are relatively self-explanatory, the last three categories often involve a complex analysis of the facts and law.
As discussed below, determining whether you sustained a serious injury, what caused the car accident, who is responsible, and what financial compensation is recoverable requires an attorney experienced in New York automobile and insurance law.
What Are the Most Frequent Causes of Car Accidents?
When seeking financial compensation for a car accident beyond the limits of your No-Fault insurance policy (more on this below), one of the first things you need to do is to determine the cause of the collision. Once you know why the accident happened, then you can determine who is legally responsible. This will also allow you to begin to answer questions such as: What type of insurance coverage is available? How much insurance coverage is available? What types of evidence will you need to collect and preserve in order to prove your claim for damages?
In many cases, multiple factors will combine to cause a car accident. This includes factors such as:
Texting, talking on the phone, or using social media behind the wheel
Eating, drinking, smoking, and other driving distractions
Driving under the influence of alcohol, marijuana, sleep medications, or other drugs
Driving carelessly, recklessly, or aggressively
Driving too fast or failing to maintain a safe following distance given the current road or traffic conditions
Negligent design or maintenance of the roadway or traffic control devices
Poor vehicle maintenance of worn out brakes, bald tires, steering, etc.
Automobile product liability defects in airbags, tire blowouts, seat collapses, etc.
Once you engage our firm to represent you, our Albany car accident lawyers will act quickly to notify insurance companies, investigate the crash scene, interview witnesses, and identify all of the factors involved. While we are conducting our investigation, we will also see that proper insurance paperwork is completed, communicate with your doctors, and work closely with you to ensure that you have everything you need for your recovery.
What Are the Most Common Types of Car Accidents?
The causes listed above (among others) can lead to various types of serious vehicle collisions. Oftentimes, the nature of a collision and the location and extent of the damage to each of the vehicles involved will point to one driver as being solely or primarily responsible. However, as we discuss below, there are several factors aside from driver negligence that can cause and contribute to car accidents as well; and, once again, the key to recovering your losses is to conclusively identify all of the parties that are responsible for your losses under New York law.
We handle car accident cases in Albany and the surrounding areas involving:
Drunk driver crashes
Head-on accidents
Hit-and-run drivers
Intersection collisions (involving drivers who run red lights, run stop signs, and fail to yield)
Loss of control in bad weather conditions (snow, ice, rain)
Multi-vehicle accidents
Rear-end collisions
Sideswipes (passing and merging accidents)
"T-bone" accidents (broadside collisions)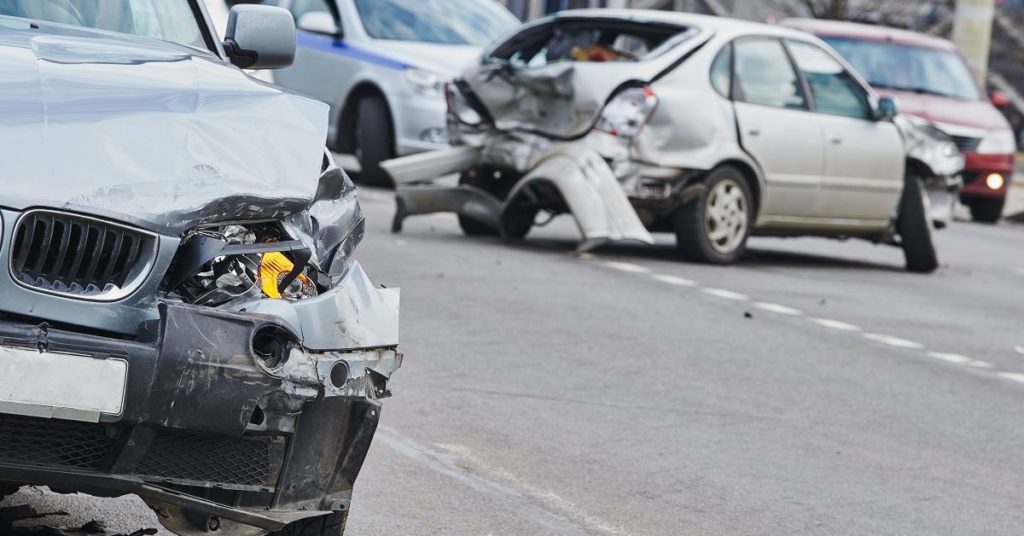 How Can a Car Accident Lawyer Help You Recover Financial Compensation?
As a driver, passenger, or pedestrian in New York who has been seriously injured in a car accident, when are you entitled to financial compensation for your losses? While it would be nice if there was a single, straightforward answer, this unfortunately is not the case. In order to assess your legal rights, our car accident attorneys will need to, among other things, meet with you personally, review your injuries, investigate the accident scene, evaluate the liability of responsible parties, and consider available insurance coverage.
Generally speaking, however, there are five primary ways that car accident victims in New York can recover financial compensation. These are:
By filing a claim under your automobile insurance policy for No-Fault Benefits, also called Personal Injury Protection (PIP) coverage;
By filing a claim against the at-fault driver and vehicle owner's Auto Liability Insurance policy for your bodily injury, pain and suffering, and economic loss;
By filing a claim under your policy or the New York State Motor Vehicle Accident Indemnification Corporation (MVAIC) if the at-fault driver was uninsured; and
By filing a claim under your automobile insurance policy for Supplemental Uninsured/Underinsured Motorist (SUM) coverage, if available;
By filing a claim against other responsible third-parties.
1. New York No-Fault Benefits (a/k/a Personal Injury Protection (PIP) Insurance)
Do you have auto insurance in New York? If so, you and any relatives who reside in your household automatically have minimum statutory insurance coverage under New York's "No-Fault" insurance law, also known as Personal Injury Protection (PIP) coverage. No-fault coverage provides "first party" insurance benefits for you as the policyholder or any passenger in your vehicle. Pedestrians are also covered by No-Fault. Most minor car accident claims are resolved exclusively through No-Fault.
No-Fault insurance simply means that you are entitled to certain benefits regardless of who was at fault for the car accident. In other words, you do not have to prove that you were without fault or that the other driver was negligent. No-fault benefits, however, are capped at $50,000 per person and are limited to reimbursement for medical and rehabilitation expenses (per established fee schedules), lost wages (80% of lost earnings up to a maximum of $2,000 per month for three years), and other reasonable expenses (capped at $25 per day up to 1 year). No-fault does not cover pain and suffering, repairs for damage to your vehicle, or other economic losses.
If you have No-Fault insurance coverage and you were injured in an auto accident, you should be able to file a successful claim for benefits. However, No-Fault denials are still common; and, in order to collect the full compensation to which you are entitled, it will be important for you to hire an experienced car accident attorney to handle your insurance claim.
2. Auto Liability Insurance for Bodily Injury and Property Damage Claims
Automobile liability insurance is "third party" coverage that pays bodily injury and property damage claims. If you suffered a serious injury in a car accident (as discussed above), then you can file a claim for bodily injury against the driver and owner of the vehicle who was at-fault for the collision.
Since No-Fault provides up to $50,000 in PIP benefits, why would someone go through the trouble of proving fault against a third-party and their insurance carrier? While there are a number of reasons, the simplest answer is that the minimum statutory No-Fault benefits are limited. In contrast, Automobile Liability Insurance policies typically have significantly higher policy limits and broader coverages that are specifically intended to cover the cost of serious personal injuries from traumatic vehicle collisions. This includes coverage for pain, suffering, and economic damages that cannot be recovered through a No-Fault claim.
Despite what the insurance companies want you to believe, filing a bodily injury liability claim is an adversarial process. The insurance companies do not want to pay, and they are not on your side. They will use a number of different tactics to try to avoid paying you; and, in order to avoid falling victim to these tactics, you need to have an experienced car accident lawyer working on your behalf every step of the way.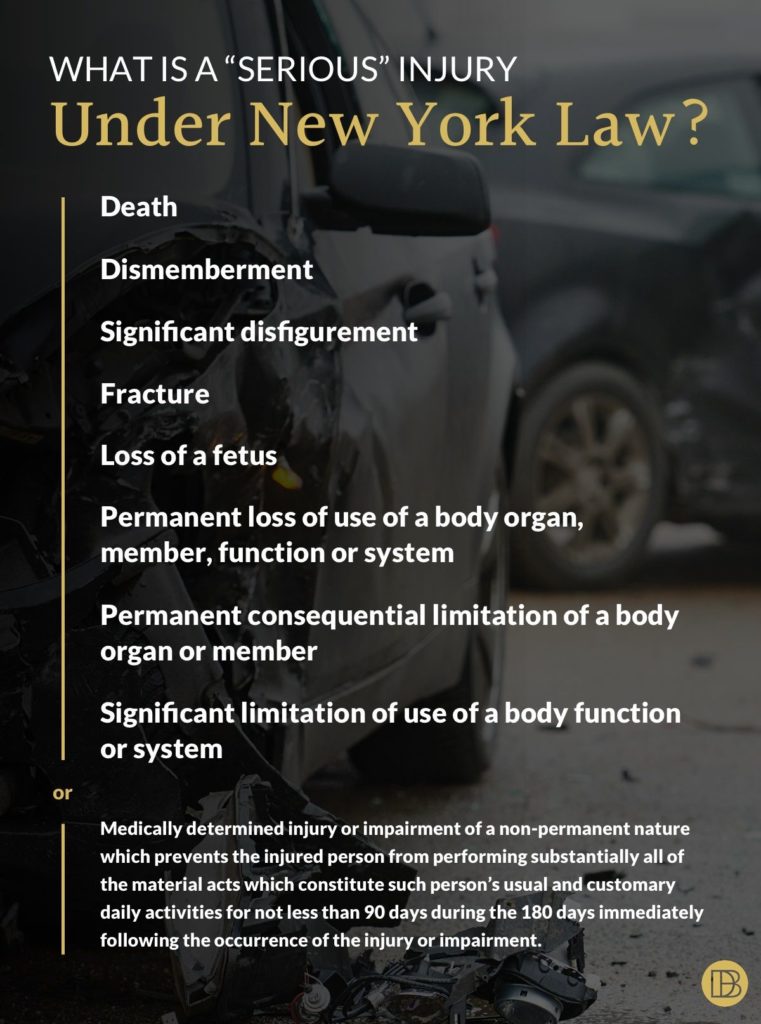 3. Uninsured Motorist (UM) Insurance & New York State's Motor Vehicle Accident Indemnification Corporation (MVAIC)
According to the Insurance Information Institute, six percent of New York drivers are completely uninsured. New York law requires that auto insurance companies provide their insureds with Uninsured Motorist (UM) coverage for bodily injury. If you are seriously injured by an uninsured driver, or a hit-and-run driver, then you can file a UM claim for bodily injury.
UM insurance provides fault-based coverage, similar to making a claim for bodily injury against a third-party. This means that you must prove the other driver was at fault, which places you in an adversarial position with your insurance carrier who may argue that you were partially at-fault or that your injuries are not serious.
What if you do not own a car and are not covered under another person's automobile insurance policy? Then you may be eligible to file a claim for UM bodily injury coverage through the New York State Motor Vehicle Indemnification Corporation (MVAIC). The MVIAC provides both No-Fault benefits up to $50,000, and bodily injury coverage for up to $25,000 per person injured in a crash.
4. Supplemental Uninsured/Underinsured Motorist (SUM) Insurance
What is Supplemental Uninsured/Underinsured Motorist (SUM) coverage? This is optional insurance coverage that you can buy to protect yourself in the event that you or your household relative is injured by a driver who has no liability insurance or limited coverage for bodily injury. By law, every New York auto insurance carrier must offer SUM coverage to their insureds. Unfortunately, many people do not know about this coverage rider, which is extremely important and often very affordable.
In New York, automobile liability policies must provide a minimum coverage amount of $25,000 for injury/death to one person and $50,000 for injury/death per accident. This is often referred to as "minimum" or "25/50" coverage. Unfortunately, a large percentage of people only carry this minimum coverage. However, if you have SUM coverage and are injured by an uninsured driver, a hit-and-run driver, or a driver who has less insurance coverage than you, then you can make a SUM claim against your own auto insurance policy for your bodily injuries.
5. Third-Party Liability Claims
Regardless of whether driver negligence was a factor in your car accident, it is important to thoroughly examine whether any other factors played a role in the accident. If so, then you may have multiple claims against multiple parties – and this could be critical if your losses are substantial.
While there are many types of potential third-party liability claims, the five most-common types of claims are for:
Negligent or Defective Road Design – Including issues such as missing guard rails, improper traffic signals and devices, lack of pedestrian sidewalks and safety controls, dangerous on- and off-ramps, and improperly-mixed road material.
Negligent Road Maintenance – Including issues such as malfunctioning traffic control devices, failure to remove construction debris, failure to fix potholes and crumbling asphalt, and failure to clear overgrown vegetation and visual obstructions.
Negligent Vehicle Maintenance – Including issues such as failing to conduct necessary maintenance, failing to replace worn brake pads or tires, and failing to replace burnt-out lights.
Vehicle Defects – Including defective engines, transmissions, electrical systems, brakes, tires, and airbags.
Employer Liability – Including direct liability claims and claims for vicarious liability based on employees' negligence behind the wheel.
Issues Your Car Accident Lawyer Can Help You Overcome
Regardless of the facts involved in your case, you can expect to run into some legal challenges along the way before holding accountable the parties and insurance companies responsible for compensating your losses. Depending on the current status of your case and the evidence proffered to date, these challenges could be genuine, or they could be the product of an ill-advised attempt to wrongfully deny you just compensation.
Either way, you need to be prepared to overcome adversity, and it is important not to let challenges interfere with the assertion of your legal rights. At Dreyer Boyajian LLP, our car accident attorneys headquartered in Albany are experienced in helping car accident victims throughout New York overcome issues such as:
Allegations of Comparative Fault – If you were partially at fault in the accident, then the amount you are entitled to recover in a fault-based claim may be limited. However, this is a very big "if," and you cannot take any defenses asserted by insurance companies for granted. Unless your attorney advises you otherwise, you should never assume that you are fully or partially to blame for your own accident-related injuries.
Allegations of a Pre–Existing Medical Condition – Automobile liability insurance provides coverage for bodily injury resulting from vehicle collisions. If you have a pre-existing medical condition, you cannot recover the costs of treating this condition. However, if the accident triggered or aggravated a pre-existing injury, then your personal injury claims should be fully covered.
Allegations of Failing to Mitigate Your Injuries – One of the most-common insurance defense tactics involves accusing accident victims of exacerbating their own injuries. Typically, this takes the form of accusing the victim of failing to seek prompt medical attention or of failing to follow his or her doctor's medical advice. Here, too, if the insurance company says you aren't covered, you should not assume anything until you discuss the issue with your attorney.
"Low Ball" Settlement Offers – If you are in pain and struggling to pay your bills, an insurance company's initial offer of a nominal cash amount can seem awfully tempting. However, if you understand that this reflects just a small fraction of your total losses, then you are far less likely to settle your claim. In many cases, an insurance company will quickly make "low ball" settlement offers before all of the facts are in, and they will do so precisely because they want you to waive your rights before you have the opportunity to make an informed decision.
Bad Faith Insurance Practices – In addition to "low ball" settlement offers, various other bad-faith insurance practices are common with car accident claims as well. From failing to conduct a timely investigation to misrepresenting the terms of coverage, car accident victims must be extremely careful to avoid falling victim to insurance bad faith.
What Do I Need to Do in Order to Get Started?
With all of this in mind, what are your next steps? Put simply, in order to protect your health, your financial security, and your legal rights, you need to seek professional help promptly. If you haven't yet visited a doctor, you should do so right away. If you have been treated by a doctor, make sure that you understand your treatment recommendations, and either follow them to the letter or seek a second opinion if you think one is necessary.
Once you have seen a doctor, your next step should be to speak with an attorney. This, too, is something that you should try to do right away. Unnecessary delays can make it more difficult to protect your legal rights, and talking to an experienced car accident lawyer will give you the confidence and peace of mind you need to move forward.
Schedule a Free Consultation With Our Car Accident Lawyers
Have you been seriously injured in a car accident in Albany, Troy, Schenectady, Saratoga Springs, or the surrounding areas of the Capital District? If so, our injury attorneys can help you. To get started with a free, no-obligation consultation, please call 518-463-7784 or inquire online today.