Construction Injury Attorney
Serving Albany, NY & All of New York State
Dreyer Boyajian LLP has spent over 35 years representing construction accident victims in Albany, Troy, Schenectady, Saratoga Springs, NY, and the surrounding areas. Our team of construction injury attorneys have extensive jury trial experience, including handling just about every type of construction accident case. Going to work every day shouldn't be a health hazard, and we fight to make sure that you and your family get the justice you deserve. If you are seeking representation for your case, please feel free to contact our work injury lawyers to schedule a free consultation.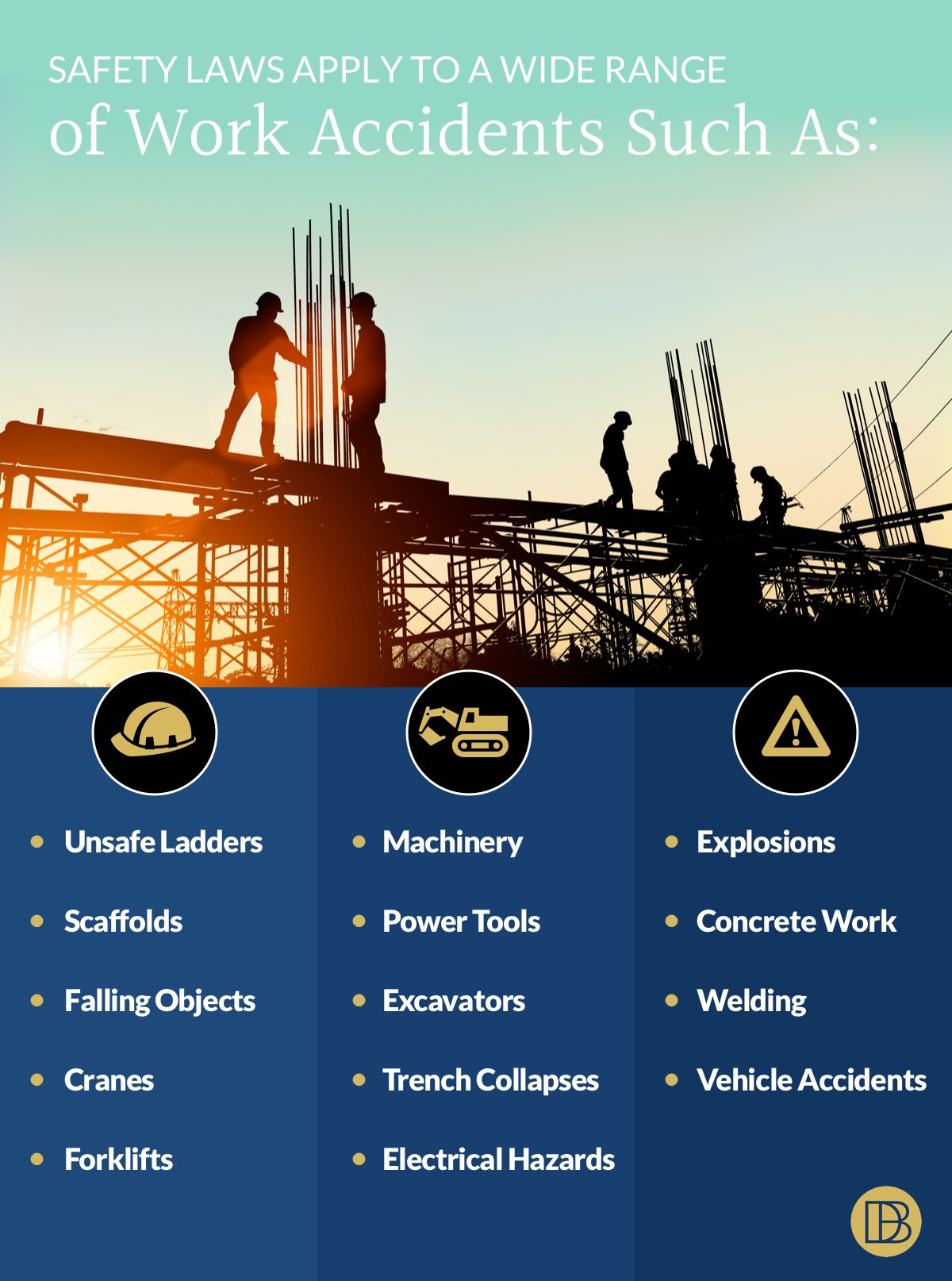 You Can Get More than Workers' Compensation Benefits
If you are injured on the job, you may be eligible for workers' compensation benefits. You also may be entitled to additional compensation by filing a claim against the property owner or general contractor hired to perform the work.
Read below to learn how New York statutory law provides special protection to construction workers.
Construction Accident FAQ
Who Is Covered by New York Worksite Safety Laws?
New York law requires strict safety at construction sites. Two of the most important statutory protections are Section 200 and Section 240 of the New York State Labor Law. Section 200 requires that all property owners and contractors ensure that workplaces are "constructed, equipped, arranged, operated and conducted as to provide reasonable and adequate protection to the lives, health and safety of all persons employed therein." It also requires that "All machinery, equipment, and devices in such places shall be so placed, operated, guarded, and lighted as to provide reasonable and adequate protection."
In effect, this law establishes protections for virtually all construction workers, including:
Laborers
Boilermakers
Carpenters
Cement and concrete workers
Crane operators
Drywall installers
Electricians
Elevator installers
Heavy equipment operators
HVAC technicians
Ironworkers
Masons
Mechanics
Millwrights
Painters
Pipefitters
Plumbers
Roofers
Sheet metal workers
Welders
This is not an exhaustive list of the types of workers entitled to safety protection, which also includes persons engaged in other construction, excavation, demolition and repair work at jobsites .
What Should I Do If I Get Hurt at Work?
Your first priority after any workplace injury is to seek medical care. Your health comes first and prompt medical treatment is critical. You also need to report the injury to your employer, in writing, no more than 30 days after you get hurt. This is required in order to apply for workers' compensation benefits. Also take photographs of the scene and identify any witnesses that were present.
You should also contact a construction accident lawyer as soon as possible. You may be able to recover damages beyond what is covered by workers' compensation benefits. It is important that the accident is timely investigated and evidence preserved. An experienced construction accident attorney will know what to do to protect the rights of you and your family.
What Compensation Can I Recover in a Construction Accident Case?
Workers' compensation benefits cover medical expenses associated with your workplace injury. Your benefits also partially reimburse you for the wages you lose while you are unable to work. Additional benefits are available if your work injury results in permanent disability. In the event of an on-the-job fatality, workers' compensation also provides death benefits to the worker's surviving dependents, such as a spouse and children.
Many injured workers discover that workers' comp only covers a portion of their losses from the construction accident. However, if your injuries are the result of safety violations or negligence caused by other parties, such as the property owner or general contractor, you may be able to file a third party personal injury claim.
In a personal injury claim, our lawyers will pursue compensation for all of the damages you have suffered, including:
Medical costs
Lost wages
Loss of earning capacity
Pain and suffering
Emotional anguish
Inability to perform household chores and services
Loss of recreational activity and enjoyment of life
Loss of consortium
Dreyer Boyajian LLP can also help if you have tragically lost a loved one in a construction accident. Our lawyers can file a wrongful death claim on your family's behalf to hold any negligent parties accountable.
Who Is Liable for My Injuries in a Construction Accident?
Questions of liability do not apply in workers' compensation claims. As a no-fault system, workers do not have to prove that their employer was negligent in order to qualify for benefits.
However, other parties may be liable for your injuries in a construction accident, including:
Contractors and subcontractors
The owner of the property
The company that designs, manufactures, or sells a defective product or piece of equipment
Careless drivers who cause a vehicle accident in a construction zone or while you are driving as part of your job duties
Multiple parties may be at fault in construction accident cases. Our lawyers will thoroughly investigate the circumstances and take action against all liable parties on your behalf.
Can I Sue My Employer for a Construction Accident?
The no-fault workers' compensation system in New York generally limits the ability of employees to sue their employers for a work injury. However, if your employer doesn't have workers' compensation insurance (which is required by law in New York) or disregards workplace safety, you may be able to file suit.
It is important to understand the full scope of your legal options after being hurt at work. Talk to Dreyer Boyajian LLP at (518) 463-7784 today for a free review of your case.
New York Labor Law 240
New York Labor Law section 240, also known as the Scaffold Law, was enacted in 1885 to protect workers who work on scaffolds, ladders, roofs and other dangerous environments where height differentials and the force of gravity could play a factor in serious work injuries or death. If you were injured in a fall during construction work, you may be able to pursue a Labor Law 240 claim and secure additional benefits. These cases generally involve falls from scaffolds, ladders, roofs, pump jack/pick assemblies, aerial lifts or injuries caused by falling objects being hoisted or left unsecured.
Strict liability can often be established by showing that the owner or contractor failed to provide required safety devices and protection.
Scaffold Accident FAQ
Why Do Scaffold Accidents Happen?
Many different factors can affect the safety of scaffolding and staging on a construction site. Factors that can contribute to a scaffold accident include:
Construction and assembly errors
Poor maintenance
Defective equipment
The scaffolding is not properly balanced or braced
Improper installation of safety rails
Falls from scaffolding and other heights are the leading cause of death on construction sites in New York. Workers may also be injured or killed in scaffolding collapses.
What Are the Most Common Injuries in Scaffolding Accidents?
Falls from scaffolding and other heights carry a significant risk of serious injury. Workers may suffer the following in scaffolding accidents:
Brain injury
Spinal cord injury
Bone fractures
Impalement
Crush injuries
Workers on the ground may also be at risk of brain and spinal cord injuries as a result of objects and equipment falling from heights.
Who Is Liable for Scaffold Accident Injuries?
New York's scaffold law (New York Labor Law 240) requires "All contractors and owners and their agents" to provide proper protections for workers who are employed "in the erection, demolition, repairing, altering, painting, cleaning or pointing of a building or structure." Although it is known as the "scaffold law," NY Labor Law 240 actually addresses "scaffolding, hoists, stays, ladders, slings, hangers, blocks, pulleys, braces, irons, ropes, and other devices."
Put simply, contractors, property owners, and the agents they hire to work on their behalf are responsible for providing safe equipment for workers performing job duties at heights. In the event of a scaffold accident (which may involve a ladder, a rope, or other device), these parties may be liable for your injuries.
New York Labor Law 241
Section 241(6) of the New York Labor Law impose a non-delegable duty on owners and contractors to comply with the safety provisions of the New York State Industrial Code (12 NYCRR Part 23) for the protection of workers engaged in construction, excavation and demolition work.
These safety laws apply to a wide range of work accidents such as:
Unsafe ladders
Scaffolds
Falling objects
Cranes
Forklifts
Machinery
Power tools
Excavators
Trench collapses
Electrical hazards
Explosions
Concrete work
Welding
Vehicle accidents, including vehicles with no back-up beeper
Who is responsible for keeping your construction site safe?
Knowledge & Experience
If you are injured in a construction accident you need an Albany personal injury lawyer who knows the complexities of New York's worker protections laws. Our attorneys have achieved significant verdicts and settlements in many cases where the client was turned away by other lawyers.
Our philosophy is simple: we prepare every case for trial. We investigate the facts of your case to evaluate any negligence by the owner, general contractor, subcontractor or third-parties. Our Albany personal injury attorneys will consult with construction safety professionals such as engineers and forensic safety experts; interview eye witnesses; obtain your medical records and analyze the law to effectively advocate on your behalf. If an insurance company will not settle, we fight for you in court.
Contact Dreyer Boyajian LLP
Get your free and confidential consultation with one of our construction & industrial accident lawyers.
Recent Case Results
Some of our significant verdicts and settlements include:
Mechanic crushed by truck being repaired $5,000,000
Roofer falls through roof $2,250,000
Worker backed-over by construction vehicle $3,500,000
Prior results do not guarantee future outcome.