Attorneys Serving Clients Injured in Boating Accidents in Albany, Saratoga Springs, and Nearby Areas of New York
Boating should be a fun recreational activity. Unfortunately, boat accidents carry a high risk of serious injury and death.
If you or a loved one was injured in a boating accident, please call Dreyer Boyajian LLP at (518) 463-7784 today for a free consultation. Our lawyers serve clients in Albany, Saratoga Springs, Schenectady, Troy, and nearby areas of New York.
Causes of Boat Accidents
Most boat accidents are the result of operator error. Like any motor vehicle, motorboats, jet skis, and other vessels must be handled with care and attention to reduce the risk of an accident.
Some of the most common causes of accidents involving boats include:
Alcohol and drug use (boating under the influence, or BUI)
Inexperience operating the vessel
Excess speed
Distraction and inattention
Reckless handling of the boat
Failure to watch for swimmers, water skiers, non-motorized boats, and other vessels
Other potential causes of boat accidents include defective vessels and equipment as well as inadequate maintenance. All of these factors pose a danger both to the people on the boat as well as others in the water.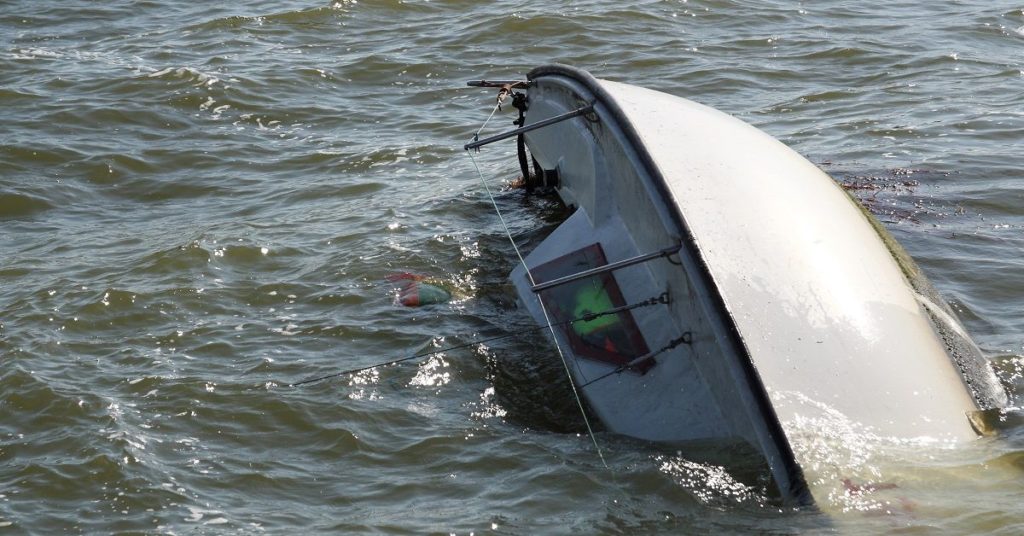 Types of Boat Accidents
Boating accidents can involve virtually any type of vessel:
Motorized boats, including fishing boats, speedboats, go-fast boats, etc.
Yachts and cabin cruisers
Jet skis
Canoes and kayaks
Paddle boats
Tour boats and party boats
Without the right care and equipment, serious accidents like the following can occur:
Sinking
Capsizing
Flooding of the vessel
Collision with another vessel
Collision with a stationary object, such as a dock, buoy, etc.
Collision with a swimmer, intertuber, or water skier
Running aground on the shore, a sandbar, or other hazard
These types of accidents can be exacerbated by factors such as failing to wear a life jacket.
Injuries in Boat Accidents
The severity of injury in a boat accident will depend on the circumstances. For example, a slip and fall accident on the deck of the boat is very different from a collision between two vessels.
Serious injuries that can occur in a boat accident include:
Brain injuries
Spinal cord injuries
Burns
Amputation injuries
Electrocution
Broken bones
Soft tissue injuries
Sadly, fatal injuries are not uncommon in boating accidents. One of the most serious risks is drowning. Even strong, experienced swimmers can drown in accidents where they are knocked unconscious or the boat sinks, capsizes, or floods.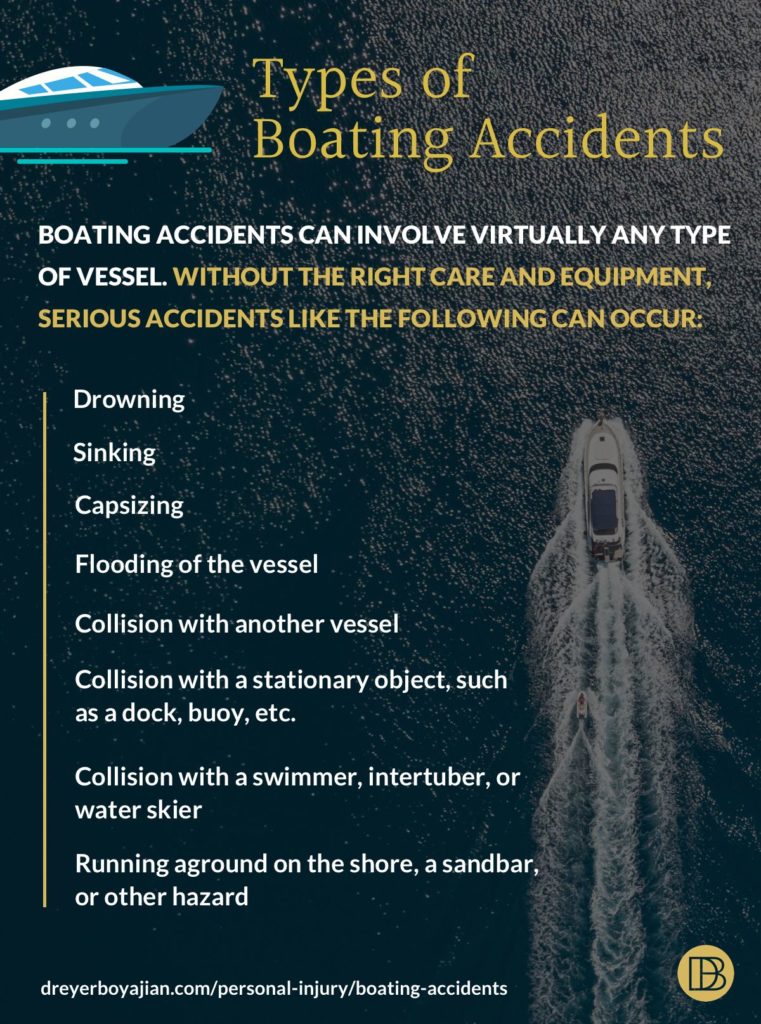 Liability for a Boat Accident
Multiple parties may be liable for a boating accident. If you or a loved one was injured or a member of your family passed away in an accident on the water, it is in your interest to contact a boat accident lawyer to discuss your legal rights and options.
Your lawyers will investigate the accident to determine who is liable. The liable parties may include:
The Operator of the Boat
Although New York law is requiring more and more boaters to complete safety training before they hit the water, inexperience is still a major contributor to boating accidents. Combine this with other careless choices, such as BUI, carrying too many passengers, and not paying attention, and the risk of an accident is significant.
The operator of the boat may be liable for injuries sustained by passengers, as well as those in other vessels or in the water.
The Manufacturer of the Boat
Many different injuries can occur if the boat, a component part, or other equipment fails. The manufacturer of the boat and its parts may be liable for defects such as:
Loose and poorly mounted railings and ladders
Engines and fuel systems that catch fire
Faulty electrical wiring that results in electrocution
Steering issues that cause a collision
Unseaworthiness
As with any product liability claim, multiple companies may be liable for defects that cause injury. Thorough investigation is crucial to determine which party or parties are responsible.
The Boat Rental Company
Businesses that rent boats are responsible for maintaining the vessels to ensure they are safe for use. Employees are also required to instruct customers on safe operation of the boat before launch.
If the boat accident was caused by negligent maintenance or employee error, the rental business may be liable.
How Dreyer Boyajian LLP Can Help with Your Boating Accident Claim
Our law firm has been serving clients throughout the Capital District for over 30 years. We have extensive experience in a wide variety of vehicle accident claims, including cases involving boats.
We will thoroughly investigate the accident to determine who is at fault, account for all of the damages you have suffered as a result of your injuries, and pursue maximum compensation from all liable parties on your behalf. If you tragically lost a loved one in a boating accident, our lawyers can file a wrongful death claim on behalf of your family.
Contact Our Boat Accident Lawyers Today
From the Hudson River to Saratoga Lake, boating is a popular pastime throughout the Capital District. If your day on the water ended in an accident, Dreyer Boyajian LLP can help.
Please call (518) 463-7784 today for a free review of your boat accident case. Our lawyers serve clients in Albany, Schenectady, Troy, Saratoga Springs, and other areas of New York.