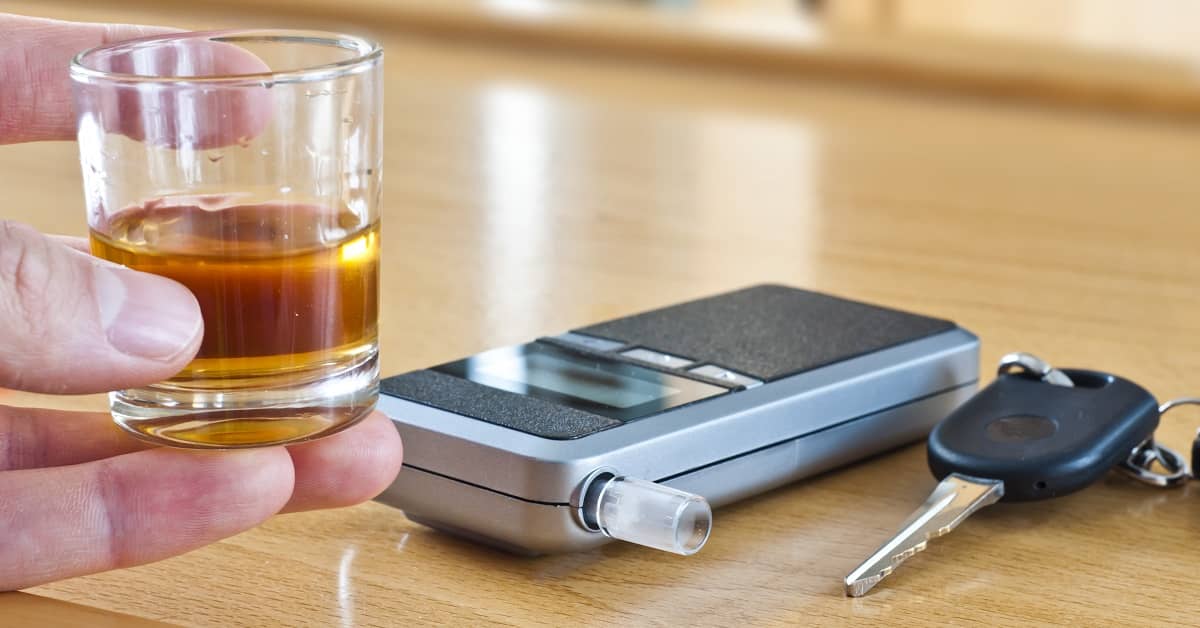 How Alcohol Affects Driving
You know that it is dangerous to drink and drive, but do you know how much the consumption of alcohol impairs a driver's ability to remain safe behind the wheel? Many people do not, and this, unfortunately, is a factor that contributes to the high number of serious and fatal drunk driving accidents each year.
According to the National Highway Traffic Safety Administration (NHTSA), "Every day, almost 30 people in the United States die in drunk-driving crashes — that's one person every 50 minutes." NHTSA data also indicate that approximately 40 percent of all fatal accidents are the result of someone choosing to drive while impaired.
These are alarming statistics, and they help to underscore the extreme risks associated with consuming alcohol before getting behind the wheel.
What Are the Primary Effects of Alcohol Consumption on a Person's Ability to Drive?
What makes alcohol-impaired driving so dangerous? As outlined by the NHTSA, alcohol negatively affects drivers' capabilities in four distinct ways:
1. Judgment
When driving, you need to be able to make split-second decisions, and you need to be able to do so rationally and with a clear understanding of the consequences involved. This requires judgment, which the NHTSA defines as "brain-centered activity that stores all of your experiences and knowledge so that it can be used quickly when you face a new problem."
When a person consumes alcohol, even in relatively small quantities, his or her judgment will become impaired. Impaired judgment significantly increases his or her risk of causing a collision.
2. Vision
It goes without saying that you need to be able to see clearly in order to drive safely. However, alcohol consumption can "blur your vision, slow your ability to focus and cause double vision."
This combination of effects is extremely dangerous for drivers. According to the NHTSA, vision impairments can begin with a blood alcohol concentration (BAC) as low as 0.02 percent.
3. Color Distinction
"A lot of the information you receive on the roadway is from different colors such as [those on] traffic signs, signals and roadway markings." As the NHTSA explains, in addition to the visual impairments discussed above, alcohol consumption can also impair drivers' ability to distinguish colors, and this too increases their risk of causing a collision.
4. Reaction Time
When driving, it is essential to be able to react quickly to your surroundings. Alcohol consumption increases reaction time – significantly so at higher BACs – and this means that drunk drivers are less capable of "process[ing] information and respond[ing] to critical driving tasks."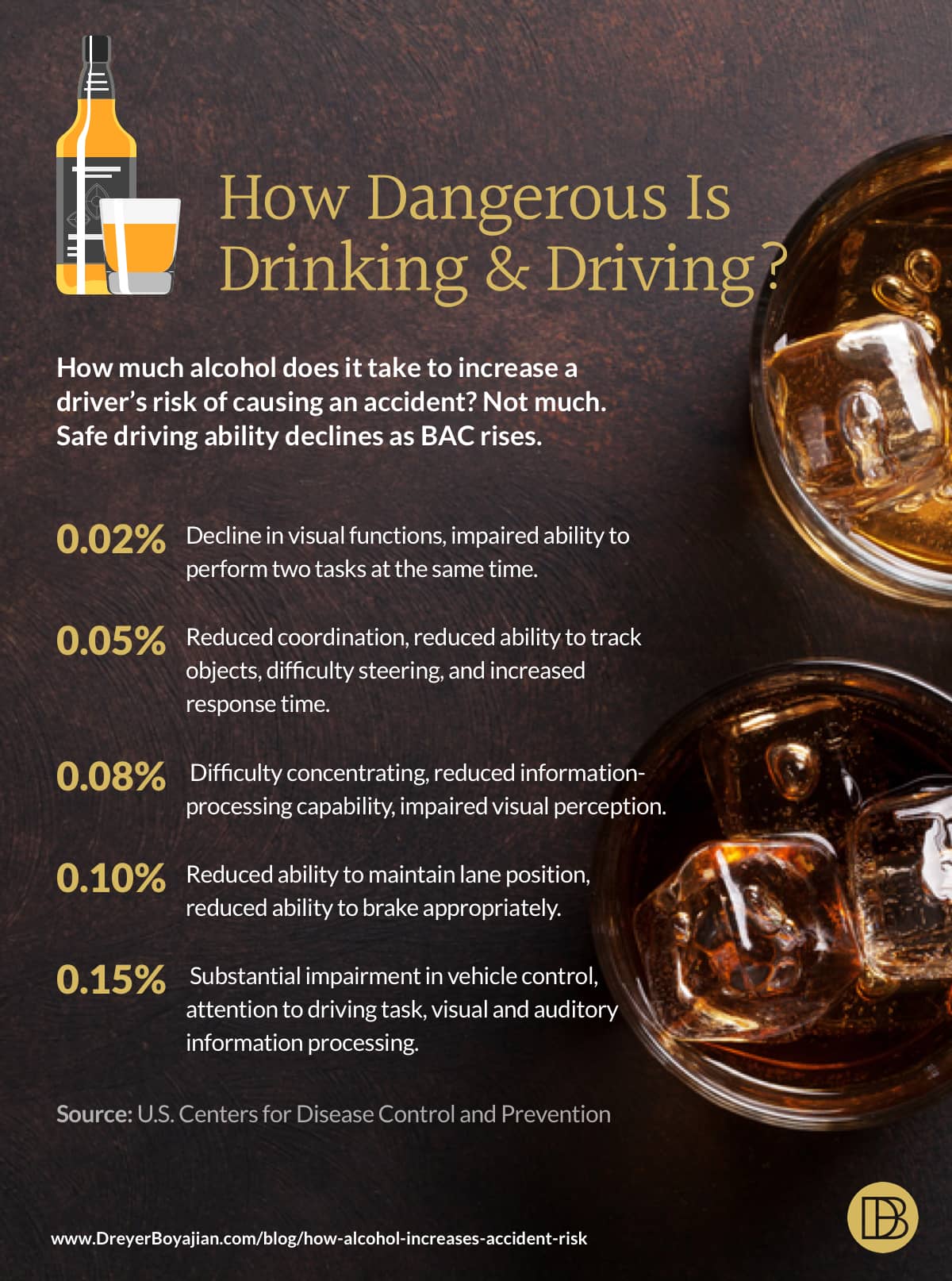 How Much Alcohol Does It Take to Cause Driving Impairments?
So, those are the primary risks associated with alcohol-impaired driving. Now, how much alcohol does it take to increase a driver's risk of causing an accident?
As explained by the Centers for Disease Control and Prevention (CDC), the answer is: not much, and certainly not anywhere near enough to put a driver above New York's legal limit of 0.08 percent BAC.
The CDC describes the "predictable driving effects" of various BACs as follows:
At 0.02 percent, drivers will experience a decline in visual functions and in the ability to perform two tasks at the same time (i.e., observe the road and operate their vehicle).
At 0.5 percent, drivers will experience reduced coordination, reduced ability to track moving objects, difficulty steering, and increased response time.
At 0.08 percent, drivers will have difficulty concentrating and will experience reduced information-processing capability and impaired visual perception.
At 0.10 percent, drivers will experience reduced ability to maintain their lane position and brake appropriately even under normal driving circumstances.
At 0.15 percent, drivers will experience "[s]ubstantial impairment in vehicle control, attention to driving task, and in necessary visual and auditory information processing."
Any amount of alcohol consumption increases the risk of a vehicle accident. The more a driver drinks, the more likely he or she will commit a serious error that can injure or even kill somebody.
What Are the Most Common Types of Accidents Caused by Drunk Drivers?
While alcohol impairment increases a driver's risk of causing all types of vehicle collisions, certain types of accidents are particularly common when alcohol is a factor. In particular, drunk driving is frequently associated with:
Rear-end collisions
Head-on and T-bone collisions at intersections
Side-to-side impact due to weaving or drifting
These accidents can leave drivers and passengers suffering from severe injuries. For many, filing a liability claim under the drunk driver's auto insurance policy will be an important step in the recovery process.
Even if the driver is charged with a DUI, this will not result in victims of the accident receiving compensation. In order to recover compensation for your medical bills, lost income, pain and suffering, and other losses, you must pursue a claim independently. It is best to do so with the advice and representation of an experienced New York auto accident attorney.
Contact the Drunk Driving Accident Attorneys at Dreyer Boyajian LLP
Have you been seriously injured or lost a loved one in a drunk driving accident in New York? If you and your family are facing this tragic situation, Dreyer Boyajian LLP can help.
Our law firm has more than 30 years of experience serving clients in auto accident claims, including those where alcohol was a factor. We will aggressively pursue compensation on your behalf.
Please call (518) 463-7784 today for a free case review. Our attorneys serve clients in Albany, Saratoga Springs, Troy, Schenectady, and throughout the Capital District.