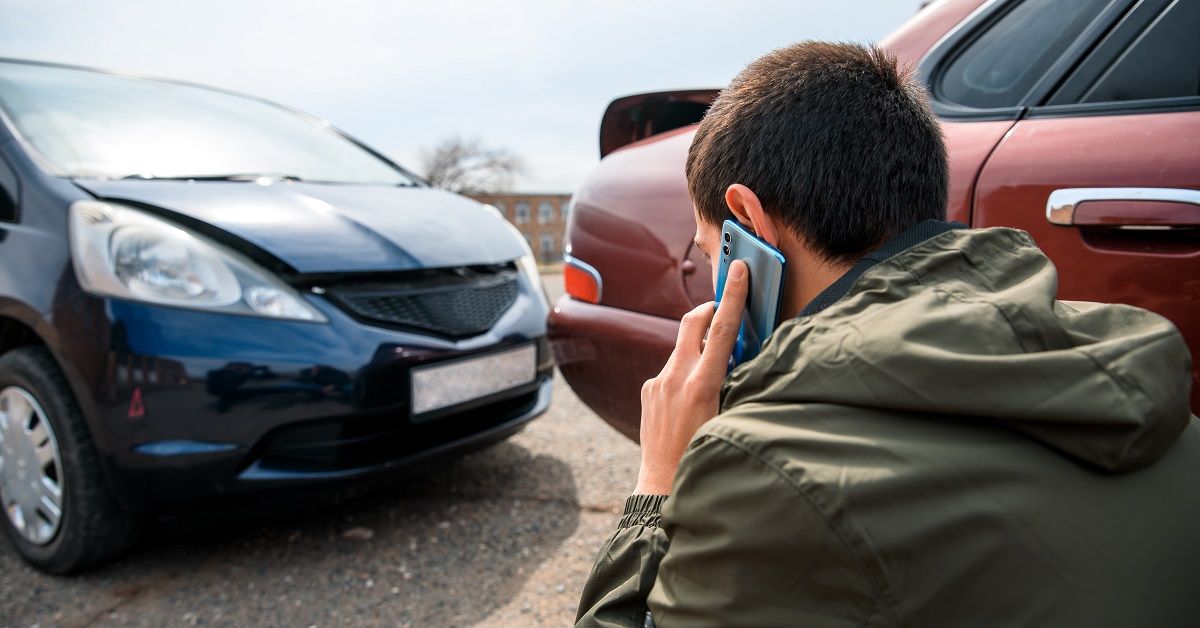 How Long Do I Have to File a Car Accident Claim?
If you have been injured in a car accident, the impact can stay with you for years. Some car accident injuries may even result in a lifetime of hardships. Unfortunately, the time you have to exercise your legal rights after a car accident is limited compared to the long-term effects of your injuries.
You must act quickly to pursue the compensation you deserve in a car accident claim. Dreyer Boyajian LLP can help.
Our car accident lawyers have been serving clients in Albany, Saratoga Springs, Troy, Schenectady, and other areas of New York for over 30 years. Please call (518) 463-7784 today for a free review of your claim.
New York Statute of Limitations on Car Accident Claims
All personal injury claims in New York are subject to time limits known as the statute of limitations. The statute of limitations determines how much time you have to pursue compensation for your injuries.
In New York, you must file your car accident claim no more than 3 years after the accident. To recover damages in your case, you must act within this 3-year window. If you don't, it is very likely that the court will block your claim.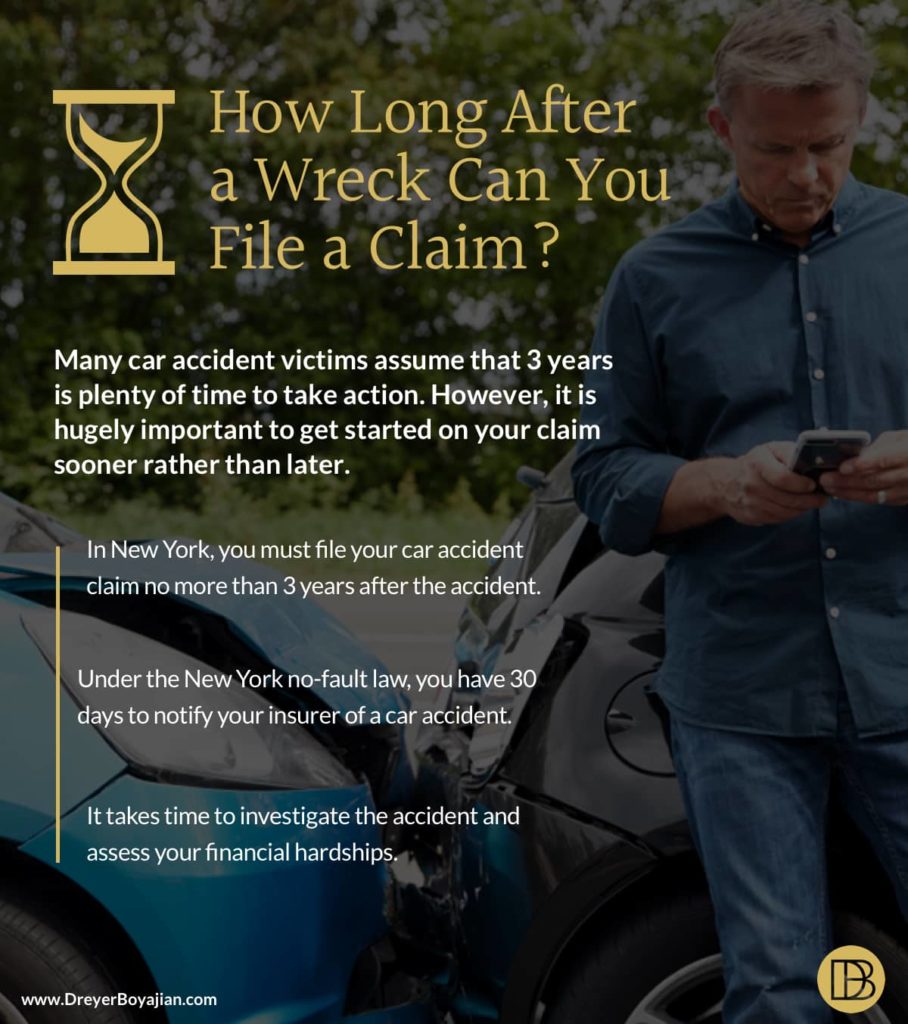 Why You Shouldn't Wait After a Car Accident
Many car accident victims assume that 3 years is plenty of time to take action. However, it is hugely important to get started on your claim sooner rather than later.
There are a few key reasons why you need to act now on your car accident claim:
1. No-Fault Insurance
New York has implemented a "no-fault" law for motor vehicle accidents. After a crash, the individuals involved first turn to their own insurance provider for compensation. Your personal injury protection (PIP) policy will cover the cost of medical bills and income you lose from time off work.
Under the New York no-fault law, you have 30 days to notify your insurer of a car accident. It is in your best interest to report the accident to the insurance company as soon as possible so you can protect your right to benefits through a PIP claim.
2. Fault-Based Claim
Although New York is a no-fault state, there are circumstances where you can sue a negligent driver for losses you suffer in a car accident. These situations may include:
Your losses exceed the policy limits of your PIP coverage
You suffer a "serious injury" as defined by New York law
In order to recover damages in a car accident claim against the at-fault driver, you must prove:
a). That the other driver was negligent;
b). That this negligence resulted in the accident;
c). That your injuries are the result of the accident; and
d). Your injuries legally constitute a "serious injury."
When you take action against the other driver in a car accident claim, the insurance company will try to pay as little as possible. They may argue that you are partially at fault for the accident, and therefore are entitled to less in damages. It is crucial to work with an experienced car accident attorney who can pursue the full compensation you deserve.
3. Investigating the Accident
Evidence at the scene of a car accident won't be around for long. Therefore, it is important to take action as soon as possible after the accident in order to build your claim and preserve your legal rights.
Steps you can take at the scene to start gathering crucial evidence include:
Immediately calling 911 to report the accident
Taking photos of the vehicles involved, your injuries, and the surrounding area
Exchanging contact and insurance information with the other driver (or drivers, if multiple vehicles are involved in the crash)
Speaking to any witnesses who saw the car accident
Providing a statement to the police for the official accident report
Once you complete these steps and seek medical attention for your injuries, your next step should be to contact a car accident lawyer. This is especially important if you were unable to document the scene due to injuries you sustained in the accident.
An experienced lawyer knows how quickly evidence is lost after a car accident. Your lawyer should investigate the accident promptly in order to build the strongest possible claim on your behalf.
4. Your Financial Hardships
Medical bills pile up fast after a car accident. If a serious injury makes it impossible for you to work, it might feel like you will never be able to get out of the hole.
Insurance companies count on these feelings in order to settle accident claims quickly and for less than they are worth. Given the difficulties you're facing, you may be inclined to take a timely settlement that helps with your immediate expenses.
Although it is important to act quickly after a car accident, it is also important not to act rashly. You should take the time to discuss any settlement offers with your lawyer first to make sure the amount adequately compensates you for all of your losses. You and your lawyer should discuss the offered settlement to determine if it meets your needs. If you deserve more, the extra time it takes for further negotiations or going to trial may be worth it.
Get Started on Your Car Accident Claim
It is in your best interest to take action as soon as possible after a car accident. The limited time to report the accident, the complex insurance issues, the brief window to secure crucial evidence, and the pressing nature of the damages you face are all good reasons to start on your claim sooner rather than later.
Dreyer Boyajian LLP has extensive experience with car accident claims. We have won millions for our clients, and we will provide the highest level of legal representation to help you recover the compensation you deserve.
Please call (518) 463-7784 today for a free review of your car accident claim. Dreyer Boyajian LLP serves clients in Albany, Troy, Schenectady, Saratoga Springs, and other areas of New York.