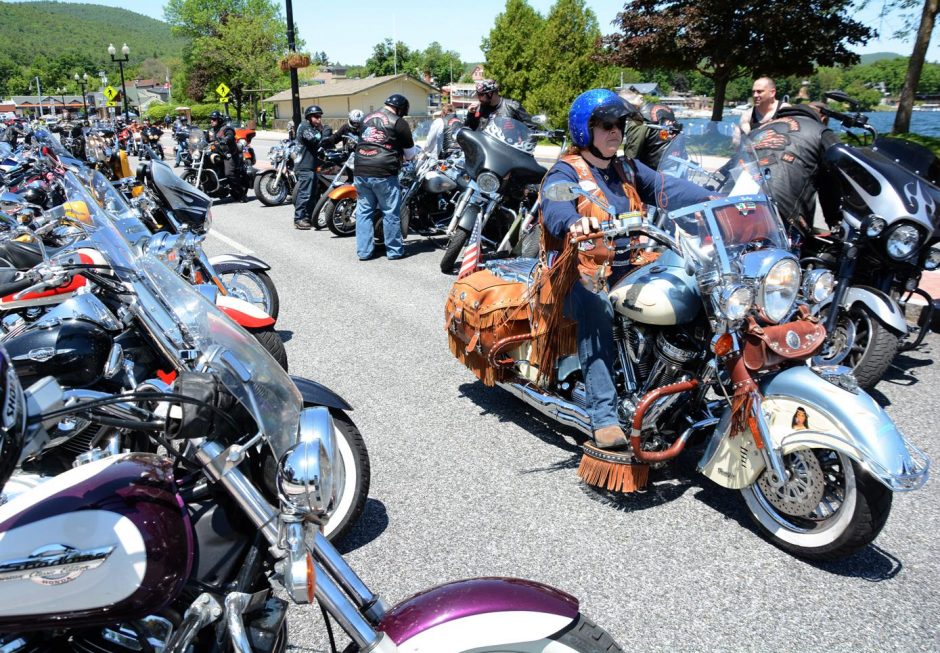 Motorcycle Accident Laws in New York and what to do after a motorcycle incident.
As one of the executive sponsors of this year's 2022 Americade Motorcycle Rally and Expo in Lake George, NY, the attorneys at Dreyer Boyajian LLP were pleased to see the fantastic turnout and meet such a diverse crowd of motorcycle enthusiasts.
Although the week was filled with great motorcycle vendors, rider demos, live music, and more, less than 72 hours later, we are left with news of multiple motorcycle-related accidents in the upstate region.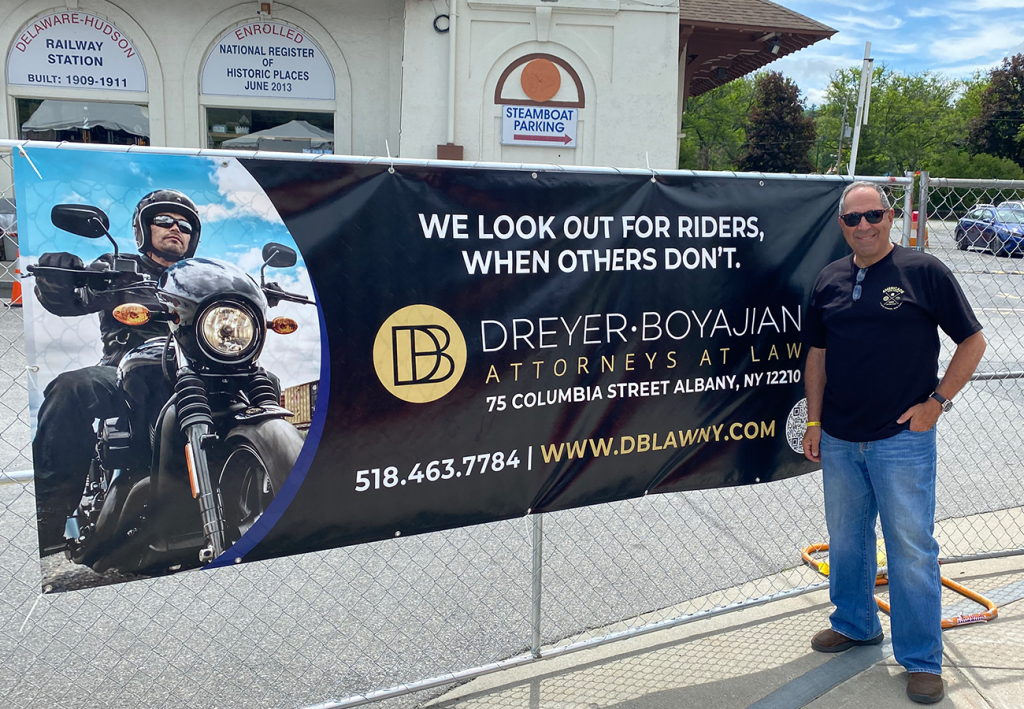 The Lake George Area in New York's Adirondacks was filled this past week with thousands of motorcyclists who gathered to celebrate their love of riding. Regrettably, a crash north of the intersection of Route 9 and Route 149 occurred on Saturday evening, June 11th, when a man driving a Harley-Davidson southbound veered into oncoming northbound traffic to avoid hitting a vehicle that turned in front of him. After colliding into a car, the man struck a guide rail. As of Sunday, his current condition was unavailable, but he was airlifted to Albany Medical Center.
On the last day of the Americade Rally and Expo, Sunday, June 12th, another motorcycle crash occurred on Route 9 near the Lake George Expedition Park, resulting in two fatalities and multiple injuries. Just before 4 p.m., a preliminary investigation revealed the motorcycle was moving at high speed when it went off the east shoulder of the road and onto a paved bike path.
Another fatality occurred during the middle of the week on I-87 when a woman of Glenmont moved from the center to the left lane and struck another rider, resulting in her death.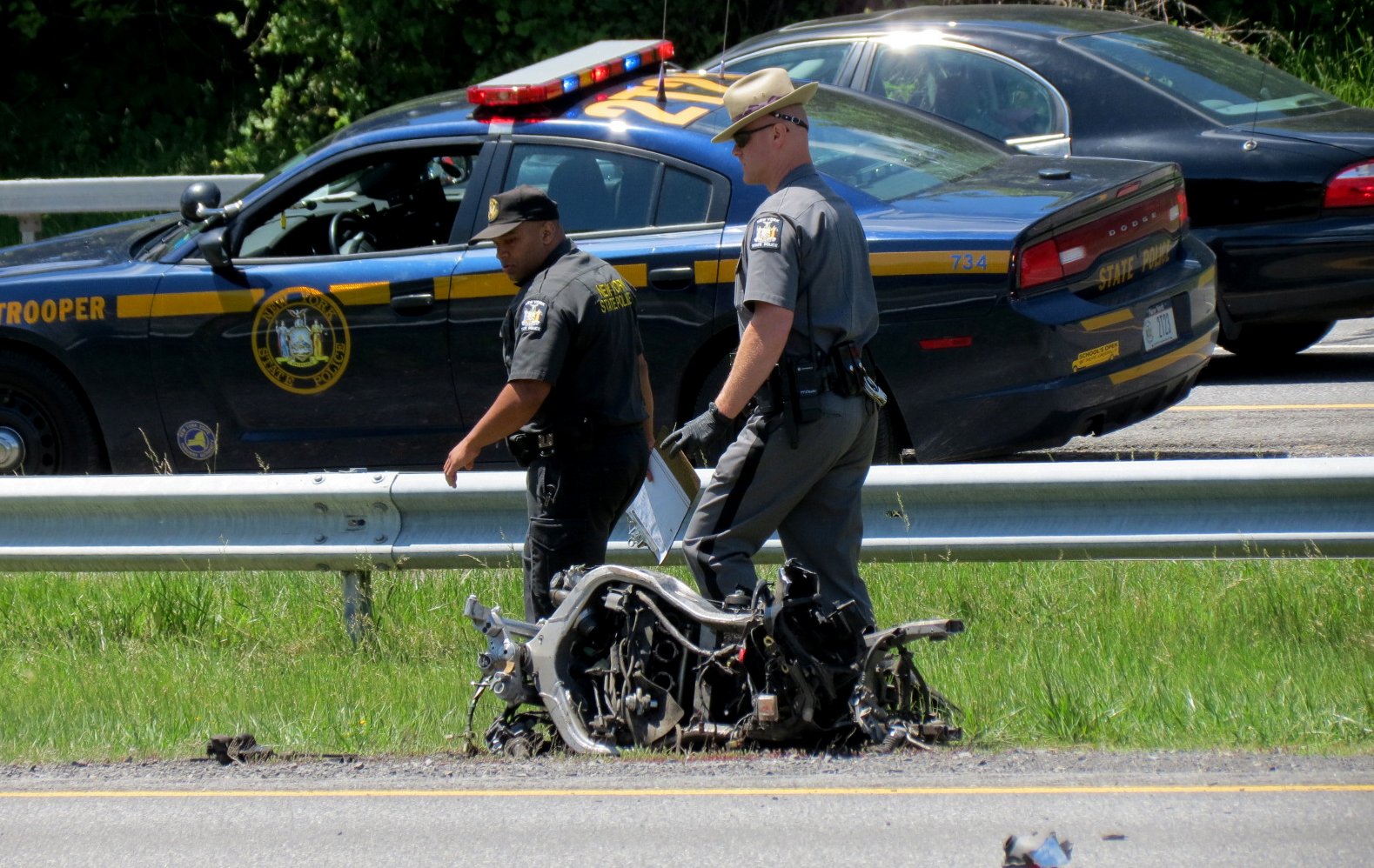 You have recently been in a motorcycle accident. What to do next?
If you have been injured in a motorcycle collision in New York, there is a lot you need to know. The same is true if you have lost a loved one in a riding accident. While the law provides clear legal rights, asserting your rights can be challenging, and injured riders and their families will often face long and difficult roads to recovery.
Victims of motorcycle accidents often sustain severe traumatic injuries. Our Albany personal injury attorneys at Dreyer Boyajian LLP have handled hundreds of motorcycle claims over the last 30 years.
Our vast experience includes representing motorcyclists who have suffered brain and head injuries, amputations, and other traumatic injuries due to the negligence of motorists who injured our motorcyclist clients. We can help you as well.
New York's No-Fault Insurance Laws
Are motorcycle injuries covered by No-Fault Insurance?
If you are injured while operating or riding on a motorcycle, the short answer to this question is generally "no." This is because, under Article 51 of the New York State Insurance Law (also known as the "No-Fault Law"), motorcyclists and their passengers are generally excluded from coverage under no-fault insurance.
Generally, the No-Fault Law requires that no-fault insurance be available to all drivers, passengers, and pedestrians that are involved in motor vehicle accidents.
However, Section 5102(f) of the No-Fault Law specifically excludes motorcycles from the definition of a "motor vehicle" for purposes of determining coverage requirements under the No-Fault Law. Thus, if you are injured in a Saratoga Springs motorcycle accident and were either driving or riding on the motorcycle at the time of the accident, you will not be able to obtain no-fault insurance coverage to pay for your medical bills or to compensate for any lost wages incurred due to being too badly injured to work, no matter how severe your injuries may be.
In New York, financial compensation after a motorcycle accident differs from monetary compensation after being injured while driving a car, truck, or SUV. At the same time, there are several reasons why. One of the main reasons is that New York's "no-fault" insurance law does not apply to motorcycle accident claims. This means you do not need to prove that you have suffered a "serious" injury to seek fault-based compensation.
Of course, most injuries from motorcycle accidents are serious by default. Any time you lay down your motorcycle on the road, there is a high risk that you will suffer a severe traumatic injury. Even if you are wearing a helmet and full riding gear, the impact and friction forces involved in a motorcycle accident can be far more significant than the forces your equipment is designed to handle.
Contact Dreyer Boyajian LLP
Get your free and confidential consultation with one of our motorcycle accident lawyers.
Get Started Today with a Free Initial Consultation
Do you need to speak with a motorcycle accident lawyer about seeking financial compensation after a motorcycle accident in Albany? If so, we want to hear from you, and we encourage you to get in touch with us as soon as possible. To schedule a free initial consultation at your convenience, give us a call at 518-463-7784 or contact us online.