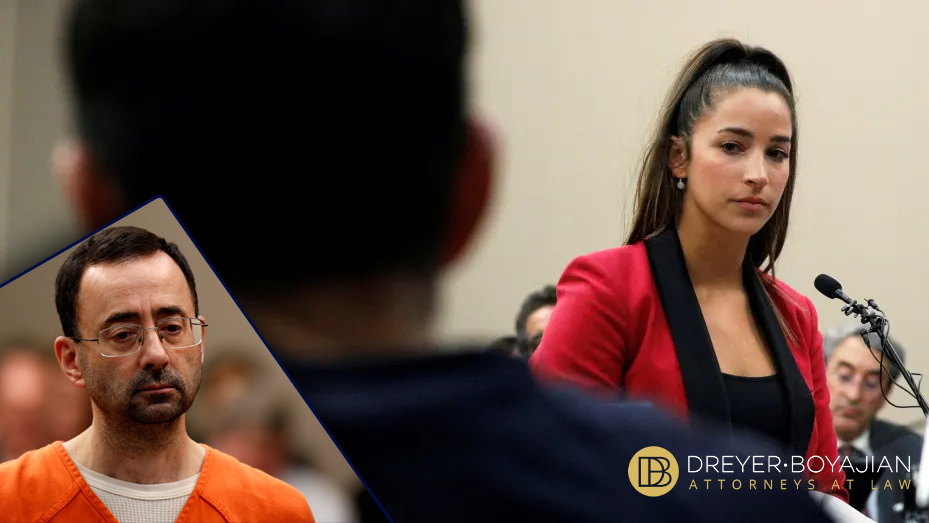 Survivors of Larry Nassar Sexual Abuse Seek $130 Million
Claims by 13 sexual assault victims of Larry Nassar, a former USA Gymnastics and Michigan State University sports doctor, have been filed against the FBI. The claims allege that the FBI mishandled the allegations after USA Gymnastics reported that 3 gymnasts were sexually assaulted by Nassar in July 2015. No investigation was opened until months later and the FBI failed to alert the Michigan authorities of the claims of abuse. Nassar was finally arrested in late 2016 in an investigation led by Michigan State University police. Between the time the FBI was alerted and Nassar's arrest, over 100 other victims were assaulted by Nassar. In 2018, Nassar was sentenced to 40 to 175 years imprisonment for his crimes.
The civil attorneys for the victims are claiming the sexual assaults after July 2015 could have been prevented had the FBI responded quickly. In 2021, the Inspector General released a report finding significant errors by the FBI, including lack of documentation of victim interviews and false statements by agents to cover-up their errors. As a federal entity, the FBI may be sued under the Federal Tort Claims Act or "FTCA". The FTCA requires that a tort claim, such as negligence, be made with the government agency before formally BEING placed into suit and becoming a case. After the claim is filed with the FBI, the government agency has 6 months to respond. During that time, the agency can settle the case or after 6 months, the plaintiffs can elect to proceed with a civil lawsuit seeking monetary damages. Under the FTCA, a plaintiff can be compensated for personal injury, death, property loss, or damage caused by the negligence or wrongful act or omission by a federal government employee.
Although hundreds of girls and women were abused by Nassar, so far 13 victims have filed claims against the FBI, each seeking $10 million, totaling $130 million. It is anticipated that more victims will file a claim under the FTCA against the FBI in the future. In 2018, Michigan State University agreed to pay $500 million in settlements to more than 300 victims of Nassar. This is believed to be largest sex abuse settlement involving a US university. USA Gymnastics and the United States Olympic & Paralympic Committee settled with victims for $380 million in December 2021.
Child Sexual Abuse Statistics [Source]
Studies by David Finkelhor, Director of the Crimes Against Children Research Center, show that:
1 in 5 girls and 1 in 20 boys is a victim of child sexual abuse Self-report studies show that 20% of adult females and 5-10% of adult males recall a childhood sexual assault or sexual abuse incident;
During a one-year period in the U.S., 16% of youth ages 14 to 17 had been sexually victimized;
Over the course of their lifetime, 28% of U.S. youth ages 14 to 17 had been sexually victimized;
Children are most vulnerable to CSA between the ages of 7 and 13.
According to a 2003 National Institute of Justice report, 3 out of 4 adolescents who have been sexually assaulted were victimized by someone they knew well (page 5).
A Bureau of Justice Statistics report shows 1.6 % (sixteen out of one thousand) of children between the ages of 12-17 were victims of rape/sexual assault (page 18).
A study conducted in 1986 found that 63% of women who had suffered sexual abuse by a family member also reported a rape or attempted rape after the age of 14. Recent studies in 2000, 2002, and 2005 have all concluded similar results.
Children who had an experience of rape or attempted rape in their adolescent years were 13.7 times more likely to experience rape or attempted rape in their first year of college.
A child who is the victim of prolonged sexual abuse usually develops low self-esteem, a feeling of worthlessness and an abnormal or distorted view of sex. The child may become withdrawn and mistrustful of adults, and can become suicidal.