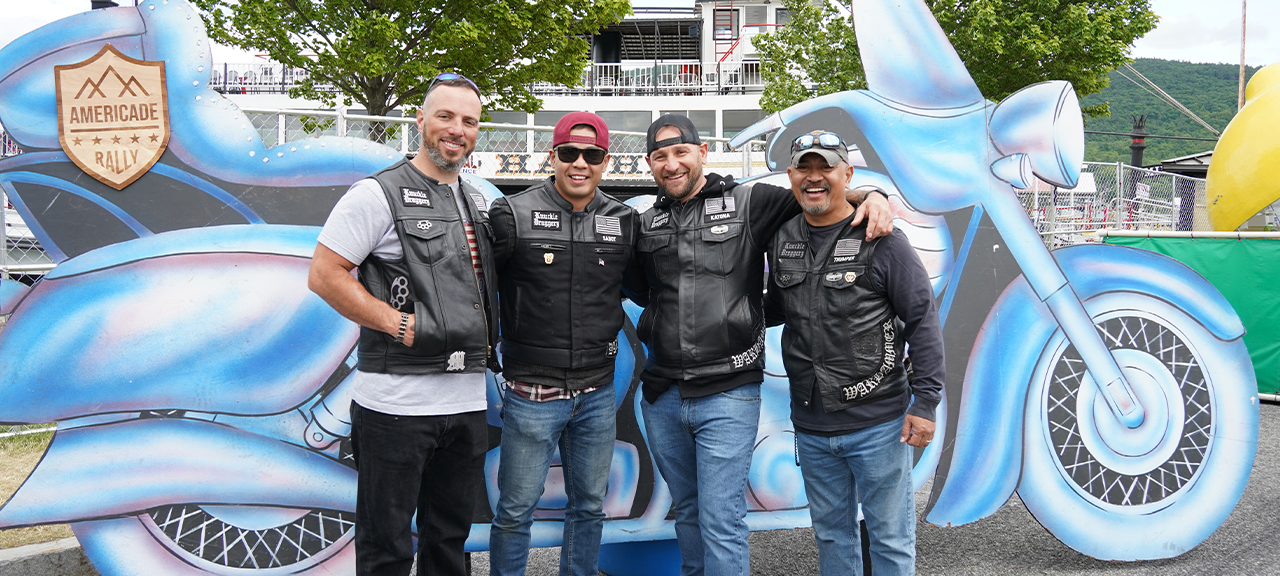 Americade Motorcycle Week in Lake George, New York
Dreyer Boyajian LLP is excited to share our recent participation in the Americade Motorcycle Week in Lake George, New York. For the second year in a row, we were honored to contribute to this extraordinary event as a personal injury law firm committed to serving our community and fellow riders. We want to emphasize the importance of motorcycle awareness, introduce you to New York motorcycle laws, and highlight the importance of securing motorcycle insurance.
The Americade Motorcycle Week gathers thousands of motorcycle enthusiasts every year. It allows riders to celebrate their passion for motorcycles, enjoy scenic rides, participate in fun events, and connect with other riders. Motorcycle accident attorneys from our firm enjoyed celebrating in this remarkable event, interacting with riders, and sharing our expertise.
Guests loved the "Big Blue Bike Photobooth," which featured a custom prop and Mini-Ha-Ha background for capturing Americade memories. Throughout Americade, we saw smiles and laughter as individuals and groups posed for photos and created lasting memories.
Motorists must be aware of the special hazards that motorcyclists face on the roads. Motorcycles are smaller and less visible than other vehicles, making them more susceptible to accidents caused by drivers who are inattentive or unaware. To keep everyone safe, drivers and motorcyclists must share the road, be alert, and practice safe driving habits. Most vehicle-motorcycle accidents happen because drivers do not see riders. By increasing awareness, we can reduce motorcycle accidents and protect riders' lives.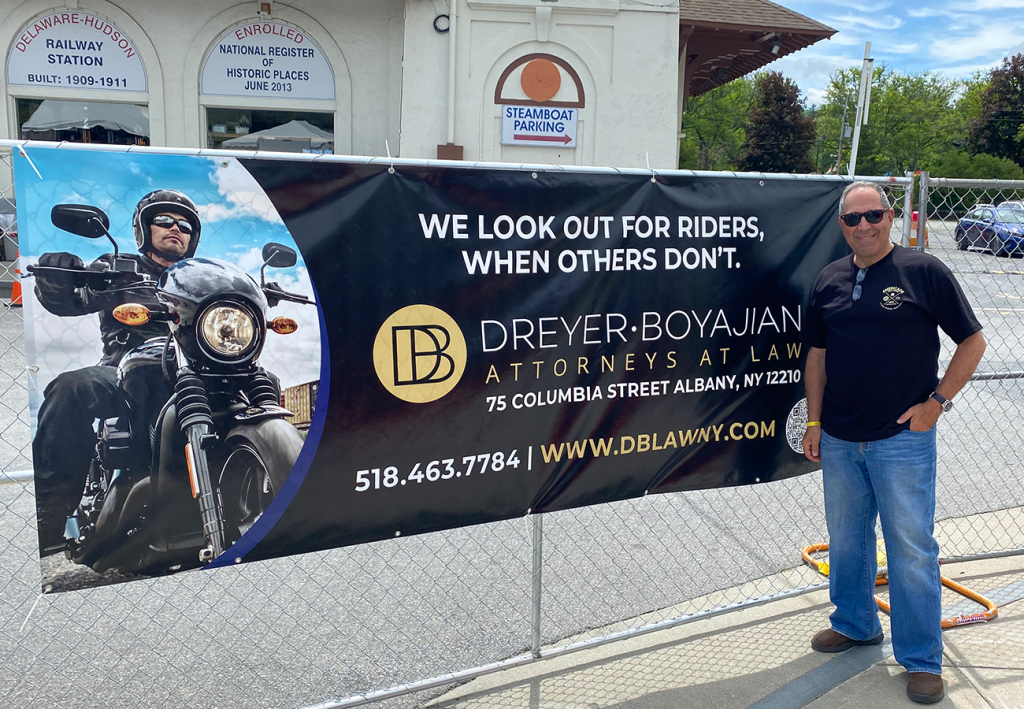 We understand the importance of New York's motorcycle laws as riders and enthusiasts ourselves. You can protect your legal rights and ensure your safety by familiarizing yourself with these laws. Consider these key points and safety tips:
In New York State, all motorcycle riders and passengers are required to wear helmets, regardless of their age or experience. One of the best ways to prevent serious head injury and protect your brain is to wear a helmet.
A motorcycle learner's permit or a Class M or MJ driver's license is required to operate a motorcycle. Riders must first pass a written exam and take a road test.
Experienced riders know local state traffic laws and do not take risks. For example, it is illegal in New York to ride between lanes of traffic, unlike in some states.
Ride alcohol and drug free.
The right motorcycle insurance can protect you and your assets in the event of an accident.
Get more than the minimum insurance. While motorcycle owners in New York State are required to carry liability insurance, this only covers claims made against you for third-party bodily injury and property damage. Purchase full motorcycle insurance coverage to protect yourself, including "Supplemental Uninsured Motorist Coverage" (SUM), "Medical Payments Coverage" (MedPay) and "Comprehensive and Collision Coverage" (C&C). This will ensure coverage for your own medical bills, lost wages, and damage to your bike. For peace of mind on the road, it is essential to understand your insurance policy and ensure that you have adequate coverage.
Our personal injury attorneys are committed to raising awareness about motorcycle safety and educating the public about New York's motorcycle laws and insurance requirements. Together, we can make the roads safer for everyone. If you need legal guidance and support, whether about licensing requirements, insurance, or if you or a loved one has been injured in a motorcycle accident, please do not hesitate to call or email us. Enjoy the open road responsibly and stay safe!
Contact Dreyer Boyajian LLP
Get your free and confidential consultation with one of our motorcycle accident lawyers.
Get Started Today with a Free Initial Consultation
Do you need to speak with a motorcycle accident lawyer about seeking financial compensation after a motorcycle accident in Albany? If so, we want to hear from you, and we encourage you to get in touch with us as soon as possible. To schedule a free initial consultation at your convenience, give us a call at 518-463-7784 or contact us online.