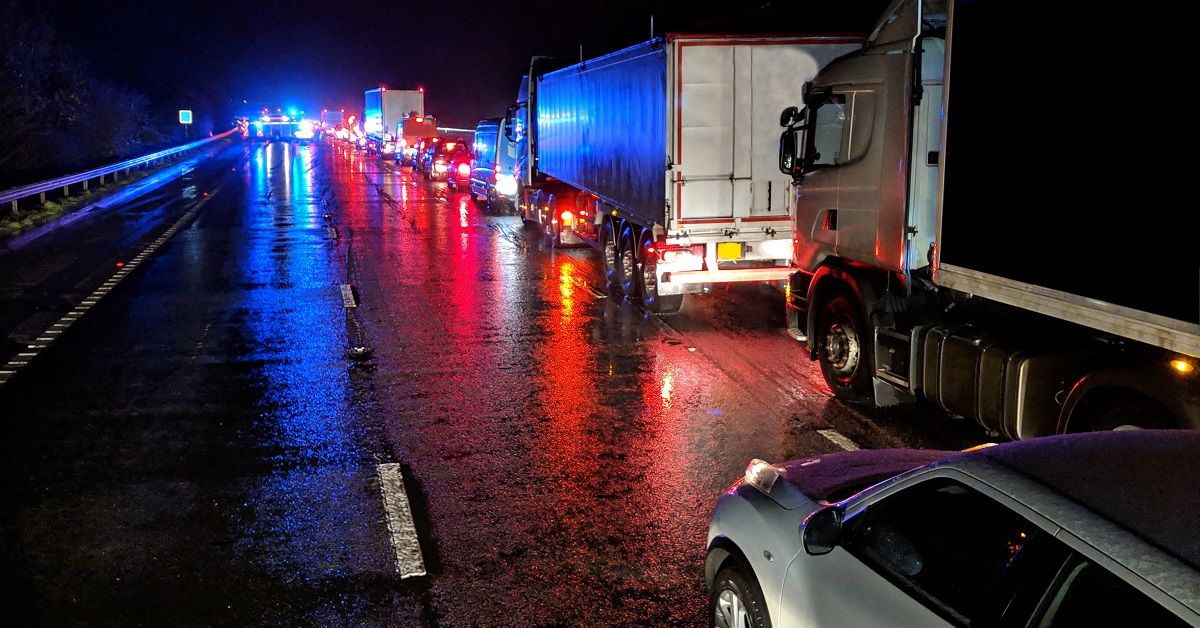 Do I Need a Lawyer After a Truck Accident?
Of all the accidents that occur on roadways throughout New York, few are more consistently serious than collisions involving semi trucks. A number of factors make truck accident claims difficult for injured people to navigate.
It is important to work with a truck accident lawyer if you or a loved one was injured or your family member died in a crash with an 18-wheeler. An experienced attorney can handle complicated aspects of the trucking accident claim on your behalf, including:
Knowing the rules and regulations
Investigating the accident
Hiring experts
Handling the trucking company
And more
Keep reading for more information on why you should hire a lawyer for your truck accident case. If you need immediate assistance, please call Dreyer Boyajian LLP at (518) 463-7784 today for a free consultation.
What Rules Apply in a Truck Accident Case?
Accident claims involving semis are complicated in part by the extensive federal regulations that govern the trucking industry. These regulations cover everything from licensing and pre-employment screening of truck drivers to conduct behind the wheel to performance of the rig to mandated insurance coverage for trucking companies.
"Over 20% of the trucks that are pulled over for inspection fail."

– Donald W. Boyajian
In order to handle your claim effectively, the truck accident lawyer you choose needs to have extensive knowledge of the applicable regulations. Truck drivers, their employers, and other parties should be held accountable when they cause an accident by violating the rules.
How Will My Lawyer Investigate the Truck Accident?
Truck accidents may be investigated by local and state police, as well as federal agencies like the National Transportation Safety Board. One or more insurance companies will also investigate the accident.
None of these parties have your best interest in mind. Your truck accident lawyer, however, does. One of the keys to building an effective claim on your behalf is an independent investigation of the crash.
Steps your lawyer may take in order to investigate the truck accident include:
Photographing the accident scene
Identifying and interviewing witnesses
Obtaining a copy of the police report and accident reports from other agencies
Inspecting your vehicle, the semi truck, and any other vehicles involved in the accident
Investigating records for the driver and the trucking company
Obtaining the "black box" (event data recorder) from the semi truck
Evidence gathered through the independent investigation will help determine who is at fault for the truck accident. Your lawyer will also review your medical records and other evidence of your losses to calculate how much you may be entitled to in compensation.
What Experts Are Required in a Truck Accident Lawsuit?
The evidence in truck accident cases rarely speaks for itself. Expert analysis and interpretation are often necessary. Therefore, the truck accident lawyer you choose needs to know what experts to hire in order to help build your claim.
A knowledgeable lawyer will understand the importance of expert testimony in determining the cause of the accident, the nature of your injuries, and the cost of damages. To this end, your lawyer may hire accident reconstructionists, medical specialists, financial experts, and others.
The best experts are able to boil down complicated information into simple concepts that an average person can easily understand. Should your truck accident case proceed to trial, these experts can be an asset for explaining the complexities of your case to the jury, improving the likelihood of a favorable verdict.
How Will My Lawyer Handle the Trucking Company?
The trucking company poses one of the biggest obstacles to the compensation you deserve for your injuries. However, the fact is that multiple companies may be involved in your trucking accident case. These companies could include:
The manufacturer of a defective vehicle or part
The shipping company responsible for the cargo
The company that performs maintenance and repairs on the truck or trailer
The dealership or other vendor that sold the truck, trailer, and/or component parts
The company that leases the truck (if the trucking company doesn't own the rig)
Each of these parties will be represented by its own insurance company. As additional at-fault parties are identified, litigation in your case will become more and more complicated.
"Not every attorney that can handle an automobile accident case is equipped to handle a complex trucking accident case."

– Donald W. Boyajian
If you have been injured in a truck accident, the last thing on your mind is how to deal with an insurance company – let alone more than one. Your truck accident lawyer can handle these negotiations on your behalf.
Like other aspects of a truck accident claim, experience is key to representing a client effectively in settlement negotiations. Each of the insurance companies will try to pay as little as possible, so it is your lawyer's job to represent your interests and advocate for the compensation you deserve.
Some truck accident claims are resolved before they go to court. However, if the insurance company (or insurance companies) won't agree to a fair settlement, it is important for your lawyer to be willing and able to take your case to trial.
It is crucial to have an experienced trial lawyer on your side if your truck accident case goes to court. Your lawyer will know courtroom procedure and present a compelling case on your behalf.
Contact Our Truck Accident Lawyers Today
For over 30 years, Dreyer Boyajian LLP has been serving clients who have been injured or lost a loved one in truck accidents. Our lawyers have won millions of dollars in complex trucking accident claims, and we will draw upon our experience and history of results to maximize compensation in your case.
Please call (518) 463-7784 today for a free case review. Our truck accident lawyers serve clients in Albany, Troy, Schenectady, Saratoga Springs, and other areas of New York.